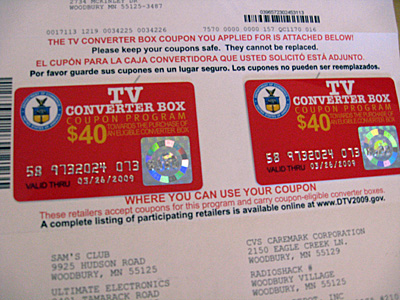 I wrote last month about an initiative to provide assistance to low-income people for converting their analog TVs to ones capable of receiving digital transmission signals. At the time, the people putting the effort together, could not say where in the Twin Cities (One of seven cities in the country targeted) such people could get help.
Now they have:
Lao Assistance Center
503 Irving Avenue North, Suite 100A
Minneapolis, MN 55405
(612) 374-4967
Main Street Project
2104 Stevens Avenue South
Minneapolis, MN 55405
(612) 879-7578
The official opening is tomorrow afternoon. It's a bit of a pity a center couldn't have been opened in St. Paul.
Coincidentally, I got my "coupons" for discounts on converter boxes yesterday. They're not really coupons at all, actually. They're ATM style cards. Initially, I ordered the cards because I've been thinking about getting rid of Dish Network and going back to the old days of sticking an antenna on the roof, and pocketing the cash I'd save.
Instead, however, I'm going to donate them to people who need help and for whom TV is important.