MPR's Midday program continues the examination of Gov. Pawlenty's proposed budget cuts during its first hour today. University of Minnesota president Robert Bruininks and James McCormick, chancellor of the Minnesota State Colleges and Universities System are the guests.
Their view is how it looks from their offices. But the human face of the budget proposals can best be found at the micro-level.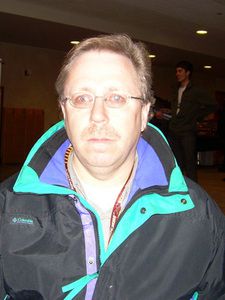 Take Joe Neumayer, who I met yesterday during my visit to Minneapolis Community and Technical College. He says he "feels God's calling" to be a certified nursing assistant. He's also on General Assistance, and stands a chance of being caught up in the proposed cuts. The eligibility for General Assistance may be pared to the federal poverty level.
"You almost can't be working (to get help)," he said, which is a problem for him since the entire point of his going back to school and getting help is that he can work.
"I'm trying to get off it, but I have a problem where I start jobs and have to quit due to my depression, but I'm trying to overcome that," he said. "I'm trying to see doctors and psychiatrists. But I'm trying real hard out there; I'm pressing forward."
He's also concerned about whether higher education cuts will make it too difficult to get the training he needs to become a nurse assistant.
"You've got people who have mental illnesses that need this type of program. They have no choice," he said. "They can't go to work. They're also seeing psychiatrists and doctors. Then you have people taking advantage of the system. Those people need to be addressed. We can't have that go on. If they're going to do any cuts, they need to cut the people just coming into the program and look at what their mental illness is."