There's a war protest going on right now. But you probably haven't heard of it.
We got a report that, for a second day, protesters are shutting down Twin Cities military recruiting offices.
A group of students were chaining themselves together (using PVC tubes and one with a bicycle U-lock around his neck to the door), barricading the entrance of a military recruiting office that had not yet opened for the day (sign says they open at 9AM)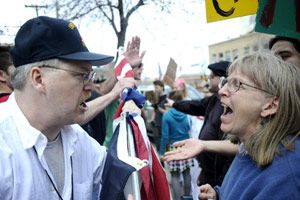 A fight broke out yesterday at a protest on the University of Minnesota's Twin Cities campus, but by the yardstick of major media coverage, it was essentially a non-event. The Minnesota Daily had the story.
Two opposing protests in front of a Stadium Village military recruitment office Thursday — totaling about 50 people — led to at least one fight, though no arrests were made.

Members of the Students for a Democratic Society and Anti-War Committee lined up on Washington Avenue to protest military involvement in the wars in Afghanistan and Iraq Thursday morning.

In opposition to the protest, students from the University of Minnesota's College Republicans, as well as veterans and supporters, positioned themselves in front of the recruiting office, carrying signs accusing the original protesters of being unpatriotic.
So what is it News Cut readers? War fatigue? Protest fatigue? Can't afford the gas to get there?
Or is it just too hard to stand in the political middle and shout, "Yes, but…"?
NPR's Ken Rudin reminds us that on this day in 1971, more than 175,000 people marched in Washington to demand an end to the war in Vietnam.