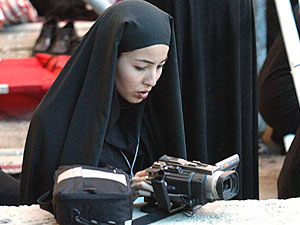 ABC News is reporting that jailed U.S. journalist Roxana Saberi has gone on hunger strike to protest her espionage conviction in Iran.
The Fargo native has been in jail since late January, when she was arrested for buying alcohol. The charges subsequently escalated into espionage, and Saberi was tried behind closed doors and sentenced to eight years in prison.
ABC's George Stephanopoulos interviewed Iranian President Mahmoud Ahmadinejad who gave little indication whether there would be any change in the conviction.
"I think Mr. Obama, as a sign of change, and also to encourage friendship should allow laws to be processed fairly and to allow the judiciary to carry out its duty," Ahmadinejad said. "I am sure she will not be mistreated."
That seems to be a little bit of a step back from earlier reports:
Ahmadinejad instructed chief Tehran prosecutor Saeed Mortazavi to personally ensure that "suspects be given all their rights to defend themselves" against the charges. "Prepare for the court proceedings … to observe and apply justice precisely," the IRNA state news agency quoted the president as saying.
We've previously pondered how Saberi fits into a push-pull puzzle of Iranian politics, both internally and internationally.
And beyond the diplomatic tension this is creating between the attempts to forge a new relationship with Iran, it's sometimes easy to overlook the fact that there's a very human story behind it all.
Roxana Saberi's parents, Reza and Akiko Saberi, have been making the rounds, giving the media plenty of updates on her condition. They spoke with the BBC this week.
And here's an open letter published on the International Campaign for Human Rights in Iran's website, written by Iranian filmmaker Bahman Ghobadi:
To Roxana Saberi, Iranian with an American passport

If I kept quiet until now, it was for her sake. If today I speak, it is for her sake.

She is my friend, my fiancée, and my companion. An intelligent and talented young woman, whom I have always admired.