It's Monday, and Mondays are for Rousers: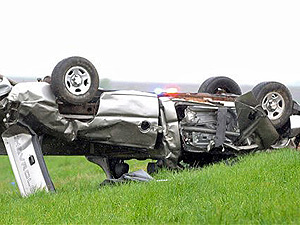 1) There are two moments in our lives when we drive safer than at any other time. The first time we get behind the wheel with a parent who's teaching us to drive; and the time we drive home from the hospital, with our child. Everything else between kids and cars is a crapshoot.
It was a tragic weekened, indeed, on Minnesota highways. Teenagers in several communities in the state were killed, three of them were teenagers in a car, out later than they were supposed to be. It's a story that's been repeated far too often this year. I had to scan the story to see if the four kids in one car were wearing seat belts. They weren't. They rarely are in stories like this.
In Onamia, a teenager was killed when she pulled out in front of a truck at an intersection. Alcohol was detected in her system.
As I was scanning the article on the MPR Web site yesterday, CBS' Sunday Morning program was airing a piece on how we make decisions. This revelation: If we are angry or happy, we're less likely to wear seat belts.
"These are feelings you just happen to have at the time you're making a judgment or a decision, but they really should not be an input to your decision," Lerner said. "And these are things, like, you're cut off in traffic."

Get mad about the commute, and you're more likely to make a risky decision at the office.

Oddly enough, being happy works the same way . . .

"Happiness and anger are remarkably similar; they both make you under-perceive risk," Lerner said. "They both make you take more risks. And they both are associated with this sense of certainty and control."

Which can be downright dangerous.

Take seatbelts . . . if you're happy or angry, you're less likely to wear one. You're also less likely to use a bike helmet, lock your car, or buy life insurance.
The decisions we make, the researcher said, aren't the product of a rational mind. They come from our emotions.
What's the answer to the question that's been plaguing parents for generations? What's the right moment to trust they'll make good decisions, when the risk is so high if they don't?
This is prom season. It was just a few weeks ago that Minnesota judge Steven Halsey penned an op-ed piece calling prom season among the 100 deadliest days for teenagers:
The tragedy is that about every five days a teenager dies on a Minnesota road. If one teen a week died of the H1N1 flu it would be all over the news and state leaders would probably call for a summit to address the danger.

Please take a few minutes to talk to your teen driver. Make a contract with them to follow the rules listed above. Consider telling them that no matter where they are, no matter what time of day or night, they must call you if they need a ride. . . no questions asked.
"Enough's enough," a State Patrol trooper told the Star Tribune. Anybody have any ideas how to stop this?
Meanwhile, in Lewiston, friends of three southeastern Minnesota teens killed in a pickup rollover on Friday plan to wear high heels and skirts to honor "the victims' sense of style." Here's another way: Buckle up, kids. And make good decisions when driving a car.
2) The tornado chasers were in the right spot over the weekend when a mile-wide twister hit Mississippi:
3) American ex-pats don't want to be American anymore, the New York Times reports.
American expats have long complained that the United States is the only industrialized country to tax citizens on income earned abroad, even when they are taxed in their country of residence, though they are allowed to exclude their first $91,400 in foreign-earned income.

One Swiss-based business executive, who spoke on the condition of anonymity because of sensitive family issues, said she weighed the decision for 10 years. She had lived abroad for years but had pleasant memories of service in the U.S. Marine Corps.

Yet the notion of double taxation — and of future tax obligations for her children, who will receive few U.S. services — finally pushed her to renounce, she said.
The first $91,400 is exempt from "double" taxation.
4) When Stephen Hawking speaks, the universe listens. Stephen Hawking is speaking. He says aliens most certainly exist, and we should do whatever we can to avoid them.
"If aliens visit us, the outcome would be much as when Columbus landed in America, which didn't turn out well for the Native Americans," he said.
5) How's this for an idea? Anything posted on a website (and blog) has to have some origin in fact? Blame Canada. It's the law there and is part of the foundation of a lawsuit in British Columbia in which a climate scientist claims defamation because of articles and comments on a website.
As in the UK, Canada allows fair comment, provided the comments are based on fact and not malicious. Weaver's statement of claim implies that the casual approach to scientific information displayed in the Post's editorials could become a line of evidence indicating that the paper displayed a malicious disregard for accuracy.

If successful, the Weaver lawsuit would force media organizations in Canada to moderate all comments for defamation and libel. It would have a chilling effect on the concept of free speech as proclaimed under the Canadian Charter of Rights. In this instance, the Post would have had to moderate all comments, and demand that individuals identify themselves, as least to the editor, if not to the reading public.
TODAY'S QUESTION
A Minnesota couple is setting out to travel all the way around Lake Superior on foot. What grand adventure do you dream about?
WHAT WE'RE DOING
Midmorning (9-11 a.m.) – First hour: A lot of negative labels have been put on the millennial generation — entitled, self-absorbed, selfish. But it's also clear that this generation is engaged and active in social causes, and is looking to make change outside the realm of politics.
Second hour: A roundup of the weekend's political news. Florida Gov. Charlie Crist has until the end of the month to figure out whether he will stay a Republican or run as an independent. In polls, Crist is behind a more conservative candidate with Tea Party backing in his bid for U.S. Senate. Also, analysis of the DFL nomination of a candidate for governor and a look ahead to the Republicans' nominating convention.
Midday (11 a.m. – 1 p.m.) – First hour: TBA
Second hour: TBA
Talk of the Nation (1-3 p.m.) – First hour: President Obama has said Iran must pay a price if it continues to defy the international community on nuclear weapons. But what happens, if they go ahead?
Second hour: TBA
All Things Considered (3-6:30 p.m.) – Margaret Anderson Kelliher kicks off a statewide tour after winning the weekend's DFL endorsement. MPR's Tim Pugmire is tagging along.
Marimba players from around the world converge in the Twin Cities for three and a half days of marimba fun. It's been described as possibly the most important Marimba event ever. Bigger than….well, I had no idea there even are big marimba events. But MPR's Euan Kerr does.