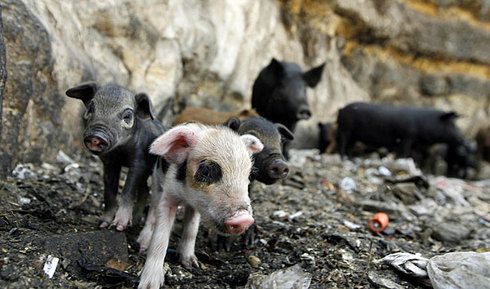 1) WASTE REPORT BRINGS ABOUT BIPARTISANSHIP
A new report from the Government Accountability Office sheds light upon redundant programs and activities that are wasting billions in federal tax dollars. The report was met with bipartisan praise by Republican and Democratic leaders in Washington that are in search of ways to address the deficit that is projected to reach $1.65 trillion in 2011.
The Wall Street Journal reports, "Sen. Tom Coburn (R., Okla.), who requested the report, estimated potential reductions would save between $100 billion and $200 billion a year."
2) WALKER BUDGET CUTS DEEP AT LOCAL LEVEL
Wisconsin Gov. Scott Walker (R) is proposing deep spending cuts to close the state's $3.6 billion budget gap. Walker described the proposal as "a reform budget… to get Wisconsin working again." The cuts would hit local governments and schools hard.
Roughly $1.5 billion cuts would come from schools and local governments. MPR's Matt Sepic reports that one school district is anticipating $200 to $1,100 less to spend per student.
The proposal also eliminates collective bargaining for most public employees. Senate Democrats are still on the lam, preventing a vote on the budget, and don't appear to have a plan to return to Madison anytime soon.
3) CONTENT FARM PREDICTING BUMPER CROP
Last week Google revamped its search algorithm to prioritize higher quality news and information. One producer of a lot of the weeded out content says it's on track to turn a profit. Online publisher Demand Media says they will be in the black later this year.
"There's a real gap and a real need for companies like Demand Media to be able to produce content at scale that people want to consume – Demand Media co-founder Shawn Colo (Journalism News).
4) THE JAIL TAPES: DOMESTIC VIOLENCE
Apparently suspects facing domestic abuse charges spend a lot of time talking with the people they allegedly abused. MPR's Sasha Aslanian unearthed some gripping audio material as part of a series on domestic violence. In some cases the calls are violations of no-contact orders and become evidence for prosecutors. Even though the calls are disclosed as monitored, the tapes paint a picture of manipulation.
A suspect who was arrested for allegedly hitting and slapping his girlfriend instructs her from jail, "Call up that prosecutor and tell him I ain't f—— do s—, man. Tell them we weren't even with each other or something. You were just mad because you thought I was with some other girl or something."
Midday picks up the topic of domestic violence today at 11:00 a.m.
5) NEWT'S HEADFAKE?
The Republican 2012 presidential field is crowded and doesn't have a clear frontrunner. Speculation this week puts Newt Gingrich in the mix. Several news outlets reported that Gingrich was planning on announcing an exploratory committee for a presidential bid. That's apparently not the case now.
TODAY'S QUESTION
Today's Question: Which potential GOP candidate would have the best chance of winning the White House?
WHAT WE'RE DOING
Midmorning (9-11 a.m.) –
9a- GOP presidential field starting to take shape? Former House Speaker Newt Gingrich is reportedly set to announce a run for president in 2012. Will speculation surrounding Gingrich spur other Republicans presidential hopefuls to make their plans official? And which candidate is most likely to fire up the base?
Guests: John H. Richardson, journalist and author. His feature on Newt Gingrich appeared in the September issue of Esquire Magazine. Matt Lewis writes about politics for the Daily Caller. He previously wrote for Politics Daily.
9:45a- Apple's iPad2 Is Unveiled
Steven Jobs continues his indefinite medical leave, but there is no break from innovating at Apple. Apple executives unveil the iPad 2 today.
Guest: Leander Kahney, Publisher of The Cult of Mac and author of Inside Steve's Brain.
10a- Rodney Crowell in the Maud Moon Weyerhauser Studio
What do you get when you grow up poor, as an only child of a drunk father and a holy-rolling mother? How about an acclaimed musician, songwriter and now author of the book "Chinaberry Sidewalks." Hear Rodney share his story, through words and songs.
Midday (11 a.m. – 1 p.m.)
11- MPR special reports on domestic violence, followed by a discussion with your calls and Jeffrey Edleson, Director of the Minnesota Center Against Violence and Abuse.