I'm paid to write about the news, mostly the news that leaves you hopeless. That's what serious news does; it leaves you with a sense of despair. That's how we know it's important to you. You've probably heard that we're going to have a state shutdown, the economy stinks, little kids are turning their drunk mothers in, and the rivers are flooding homes all over the Upper Midwest. Uplifting stuff.
What more is there to say about any of those things except to wonder aloud whether there's more to life than this? I say there is and today's 5×8 gives you five ideas for coping with the day's events, which you can read about elsewhere if you need a fix.
The weather experts say today will be one of the 10 best days of the year. Wouldn't it be grand if the news matched it?
1) WATCH OTHER PEOPLE WORK
Sometimes, you just have to stop and smell the demolition.
There was a time in the distant past that a good building demolition would attract a crowd. The blow-them-up days killed the "sidewalk supervisor," who watched the orderly and traditional dismantling of something someone was once proud to create. Downtown Saint Paul these days offers infinite possibilities for the super but we noted yesterday that nobody was much interested in the death of this building on Sixth Street between Cedar and Minnesota.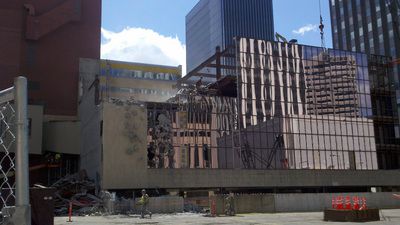 It's all glass and begging for a whack with the giant steel ball attached to the crane. The wrecking crane once spoke for all of us, we'd watch from the sidewalk and dream that the building would represent, say, a bad day of work. Wham! "Do it again! This next one's for you, politicians!" Even the word dripped with satisfying retribution: "Demolished."
But, alas, they're not taking buildings down that way, anymore. There's no wrecking ball. Only bobcats operating on each floor, dismantling each piece. It's all so very neat and unsatisfying, a fact you can only surmise by stopping on your walk to somewhere and investigating.
The building, by the way, is being demolished to make way for a new transportation center for light-rail, which will make the turn here from its southern route to the east.

2) TAKE OFF YOUR SOCKS
The socks came off in Derbyshire for the World Toe Wrestling Championship.
"I knew I'd win and I'll win next year, whoever comes," the winner said. "Next year, I'm breaking his ankle."
3) BUILD A CONCRETE CANOE
We have a winner in the national concrete canoe competition! Cal Poly Tech — figures — has defended its crown and won the competition, choosing a design that uses crushed toilet porcelain.
The closest local entry in the competition came from Madison.
We've learned that concrete canoes can float, right up until the point where they can't.
4) LEARN TO READ LIPS
Let me help you. Here's a moment in last night's Detroit Tigers game…
5) SAY 'THANK YOU' TO SOMEONE
Guy Gaskill, 39, has lived life in the fast lane, the Duluth News Tribune reports. He served seven years in prison for selling drugs, and was badly hurt in a road-rage accident in 2009. He lost his leg. When he woke up from surgery, his dad was where he'd been for much of the son's life — by his side. His father raced cars when he was younger, so his son found a version of one of his favorite rides and restored it. "Most people would have given up on me a long time ago," Guy Gaskill said. "Dad never did."
Bonus: Because I never get tired of watching this one, that's why.
We now return you to your regular programming.
TODAY'S QUESTION
Legislators and the governor continue to negotiate on the state budget, but time is running out. A possible state government shutdown is just three days away. Today's Question: What's your solution to the state budget impasse?
WHAT WE'RE DOING
Midmorning (9-11 a.m.) – First hour: Dee Dee Myers on Bachmann, Obama and the race for the White House.
Second hour: Author Ann Patchett
Midday (11 a.m. – 1 p.m.) – First hour: The latest on the possible state shutdown.
Second hour: From the first night of the Aspen Ideas Festival, a dozen speakers address the question, "What's the Big Idea?" These short "mini-speeches" are the traditional opening to the week's panel discussions and lectures in Aspen, Colorado.
Talk of the Nation (1-3 p.m.) – First hour: What have we learned 10 years after 9/11?
Second hour: How we discuss our differences.