Just be glad you have a job, the great sleepover debate, why you shouldn't deep-fry the turkey in the house, should there be religion at a holiday display in Duluth, and the art of writing backwards.

1) STRIB TO MIDNIGHT WORKERS: 'BE GLAD YOU HAVE A JOB'
Most newspaper editorials these days are so tepid they're hardly worth reading and certainly aren't capable of stirring public debate. Today's Star Tribune editorial isn't one of them. The Star Tribune jumped into the debate over whether stores should open at midnight tomorrow night and require employees to give up part of their Thanksgiving to go to work. Tact was not part of the message.
.. complaining about work hours is grossly self-indulgent.

Many unemployed workers would love a steady paycheck to stave off a home foreclosure or, in the most desperate cases, to cover the cost of Thanksgiving dinner.

When times were better, retail giants forcing employees to work on treasured family holidays could easily be painted as corporate greed run amok. But today it's hardly fair to paint merchants as retail Scrooges.
It leaves little to interpretation:
Many are lacking health insurance and foregoing staples that in different times were a given.

So please, protesting retail workers, stop whining about having to work holiday hours.

Be grateful to have a job.
"And that, my friends, would be an embarrassment if it were written by the Bird Island Clarion-Shopper," MinnPost's Brian Lambert writes today.
Early tomorrow morning — Thanksgiving, no less — hundreds of people will be forced to get up around 2 or 3 a.m., and go to work on the streets of the Twin Cities. They will destroy their cars to do their job, they will not get health care because they've been hired as independent contractors, and they will be very lightly paid. They will be delivering newspapers full of ads for stores opening at midnight Thursday night.
2) THE GREAT SLEEPOVER DEBATE
Should parents allow their teenagers to have sex in their home? These are the type of questions which reinforce the notion that your online host today is old. Really old. Old enough to search not only for the "no" answer on the Boston.com online survey, but the "hell, no" answer.
"American parents may feel like it's just wrong to have these sleepovers, that they're condoning sex," said Amy Schalet, an assistant professor of sociology at University of Massachusetts, Amherst. "But there's a benefit to creating an environment in which teens can truly feel comfortable in admitting to their parents that they're experiencing sexuality" and for parents to provide them a safe place to engage in it.
"Antiquated," is the word Ms. Schalet used to describe the notion that maybe that's not such a great idea. She says it's a "don't ask, don't tell approach that doesn't stray too far beyond providing teens with an abstinence lecture or grudgingly a visit to the doctor to get a pill prescription."
Schalet studied Dutch and American teenagers and found the Dutch have it all over the antiquated-raised Americans. American teenage girls have more than four times the pregnancy rate of their Dutch counterparts: 61 per 1,000 in the US compared to 14 per 1,000 in Holland.
3) DEEP IMPACT
We're standing by waiting for the first report of house fires in the region caused by people deep-frying the turkey in their homes.
4) FREEDOM OF RELIGION V. FREEDOM FROM RELIGION IN DULUTH
Should street preachers be allowed to preach at Duluth's Bentleyville Tour of Lights? Two of them — Steve Jankowski of Duluth and Peter Scott of Hibbing — have filed suit after they were kicked out of the lighting display at Duluth's Bayfront Festival Park — a public park leased to a private organization.
The Duluth News Tribune highlights the salient point for debate:
In a Nov. 29, 2010, e-mail from Deputy City Attorney Alison Lutterman to Jankowski, the city laid out its opinion on the situation. Lutterman said Bentleyville "has a contract with the city that allows it exclusive rights to the use of the Bayfront area for its presentation of a holiday lighting display known as Bentleyville. These exclusive rights include the right to exclude persons. Bentleyville is not an area intended for the exercise of 1st Amendment activity."
Assuming that without the city leasing the park it would be "an area intended for the exercise of 1st Amendment activity," the question becomes whether a city can sign away someone's 1st Amendment rights.
.. and no religion, too: Billboards never let us down for their ability to disturb. This billboard is being taken down in New York City after complaints…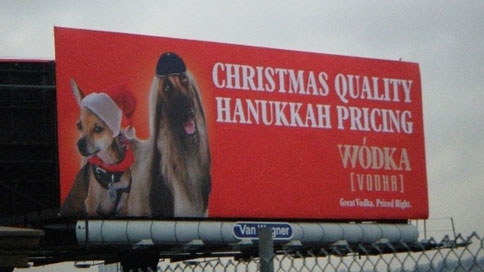 The Anti-Defamation League and consumers bashed the board as being anti-Semitic for suggesting Jews are cheap and/or Christmas is a higher-quality holiday, AdFreak says.
5) WRITING BACKWARDS
"Whatever talent you're blessed with should be used to help others," this woman from Hutchinson tells KARE 11.
Bonus I: Art can often lift you out of a funk. But this artwork is intended to have a health benefit — lifting the burden of seasonal affective disorder.
Bonus II: How should news organizations cover stories with offensive acts involved — think Penn State — without describing the offensive acts involved? NPR's ombudsman tackles that listener complaint today.
TODAY'S QUESTION
Walmart is planning to expand the health-care services it offers in its stores. Today's Question: How likely would you be to use a retailer like Walmart for your health care?
THE BIG STORY
Today was supposed to be the deadline for the congressional budget super committee to finish its work. We look at its failure, track any last minute attempts at a deal and what happens next .
WHAT WE'RE DOING
Midmorning (9-11 a.m.) – First hour: Walmart's expansion into medical care.
Second hour: The growing power of Amazon.
Midday (11 a.m. – 1 p.m.) – First hour: McClatchy's Cairo Bureau Chief Hannah Allam discusses events in Egypt.
Second hour: Stephanie Curtis on new movie releases over the holidays, and the best animal movies ever.
Talk of the Nation (1-3 p.m.) – First hour: Political talk with NPR's political editor.
Second hour: Talking politics at the Thanksgiving table.
All Things Considered (3-6:30 p.m.) – Seventy-five years ago, in two recording studios a world apart, two musical legends who never met — Pablo Casals and Robert Johnson — changed music.