Embracing water, Dakota 38, the law of unintended consequences, the things that don't stop us, and photographing Duluth.

The Monday Morning Rouser:
1) EMBRACING WATER
The 40s? Really? The ice sculptures at Rice Park in Saint Paul will be melting prematurely this week. There's not enough snow in these parts for a good slushball fight.
We're going to need some serious winter here soon if spring is going to have any meaning at all. And it's not as if we don't know how to embrace a winter, the TV weatherpeople notwithstanding. Over the weekend, it was announced that the the annual City of Lakes Loppet Festival in Minneapolis — maybe the most beautiful of all celebrations of winter around here — is moving from Uptown to Theodore Wirth Park next week.
Fortunately, we got a little snow last week, so the Art Sled Rally could be held at Powderhorn Park.
You can't do that in the summer!
Art Sled Rally by Fintan Lethert from Nick Lethert on Vimeo.
On Saturday, the Winter Carnival Parade in Saint Paul was missing a very important element, as this fine picture from Teresa Boardman reveals (find more images here)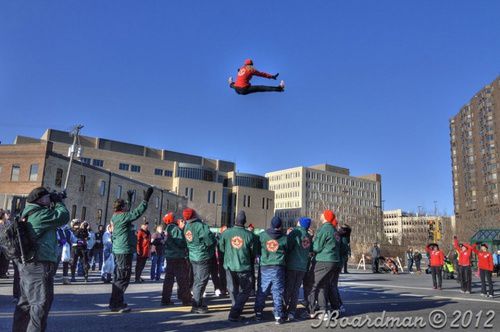 Nonetheless, there's still enough of winter around to make this event a head scratcher, even for the most winter-savvy…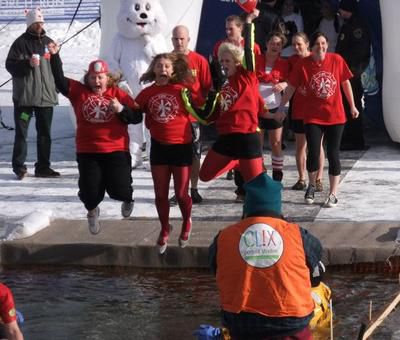 That's the Polar Bear Plunge yesterday in White Bear Lake. The fire department there raised money for Special Olympics. (Photo: White Bear Lake Fire Department via Facebook)
Winter is who we are. It's what makes us different from, say, Georgia. Would NPR be giving us love if we didn't have art shacks on a frozen lake?
Come on, winter! We're waiting on you.
2) DAKOTA 38
Dakota 38 premiered yesterday in Winona.
"DAKOTA 38" Trailer from Smooth Feather on Vimeo.
Jim Miller, who had previously known little about the mass hanging of the Dakota in Mankato, rode from the Lower Brule Reservation in South Dakota on a 16-day journey to Mankato, the Winona Daily News says. Silas Haggerty filmed the ride, edited the film, and distributed it without charge. Haggerty said the decision was made to give it away as a gift to honor Native traditions surrounding ceremonies., the paper said.
This is the 150th anniversary of the U.S. – Dakota war, a war about which relatively few people are aware. The Star Tribune's excellent story yesterday should help, and should provide the foundation for a long-term discussion about why that is.
"You can get through the Minnesota school system and never hear about the Dakota conflict, and at a national level people are completely clueless," said Jessica Potter, the director of the Blue Earth County Historical Society in Mankato, where the hangings took place after President Abraham Lincoln signed the orders. "Even in this community, we have major community leaders who say: 'Lincoln was involved, really?' "
3) THE LAW OF UNINTENDED CONSEQUENCES
Politicians aren't usually particularly precise when passing laws and sometimes they don't work the way they intended. On This American Life on Saturday, we learned how Alabama's new immigration law is sending legal immigrants scurrying for cover. It was part of Saturday's "Reap What You Sew" show.
4) THE THINGS THAT DON'T STOP US
Two winters after being paralyzed from the waist down, Grant Korgan found his redemption this month on a minus-45-degree day at the South Pole, the San Francisco Chronicle says in a story about a paralyzed athlete who dreamed of — and then accomplished — a 75-mile, 12-day trek across the 9,000-foot Polar Plateau.
5) PHOTOGRAPHING DULUTH
(h/t: JP Rennquist)
Bonus: It has no redeeming value, we admit. But we can't stop watching it.
TODAY'S QUESTION
President Obama called last week for an "all-out, all-of-the-above strategy" for the development of U.S. sources of energy. Today's Question: If you were energy czar, how would you change U.S. energy policy?
WHAT WE'RE DOING
Midmorning (9-11 a.m.) – First hour: President Obama said American oil production is the highest it's been in eight years in his State of the Union address. Critics say that he's claiming credit while his administration is inhibiting further growth. Supporters say his speech is on target in balancing the need for both natural gas and oil to exist while further developing renewable energy sources. So what is the status of oil and natural gas production in the U.S.? Can the U.S. realistically wean itself of foreign oil? Where can industry and environmental groups work together to create a diverse domestic energy portfolio?
Second hour: Depression and the role of brain chemicals.
Midday (11 a.m. – 1 p.m.) – First hour: A look at arts week.
Second hour: Homeland Security boss Janet Napolitano at the National Press Club.
Talk of the Nation (1-3 p.m.) – First hour: TBA
Second hour: Are we ready to pay for online news?
All Things Considered (3-6:30 p.m.) – In a world filled with brainstorming sessions and constant self promotion, extroverts reign supreme. And if you're shy or introverted, you risk being perceived as almost anti-social. Now, a new book explores the power of quiet in a world that can't stop talking.