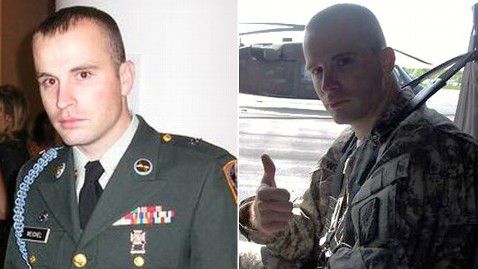 Photo courtesy U.S. Army
It's bad news any time an American soldier is killed overseas. But there's some comfort in this: Word of the death of a Rhode Island National Guardsman arrived (on my desk, anyway) via a tweet from Lotfullah Najafizada, an Afghan journalist who spent some time in the Twin Cities last year as a fellow with the World Press Institute. Lotfullah linked to a CNN story about the death of Dennis Weichel:
The official Pentagon news release says he died "from injuries suffered in a noncombat related incident." But there is much more to the story. Weichel, 29, of Providence, died saving the life of a little girl. …

Some children were in the road in front of the convoy, and Weichel and other troops got out to move them out of the way.

Most of the children moved, but one little girl went back to pick up some brass shell casings in the road. Afghan civilians often recycle the casings, and the girl appeared to aim to do that. But a Mine-Resistant Ambush-Protected vehicle was moving toward her … .

Weichel saw [the] massive truck bearing down on the girl and grabbed her out of the way. But in the process, the armored truck ran him over … The little girl is fine. Weichel died a short time later of his injuries.
Specialist Weichel's death, and those of three others reported last week, brought the number of U.S. military deaths in Afghanistan to at least 1,788. Of that number, 1,489 were the result of enemy action. One of the reports says Weichel's death resulted "from injuries suffered in a noncombat-related incident," which gives no hint of the heroism he displayed.
I recently sent Lotfullah a message asking him to write a commentary for MPR News on the March 11 massacre of civilians in southern Afghanistan. I haven't yet heard back from him about that. But maybe his tweet about Weichel's sacrifice is all the commentary we need.
— Eric Ringham