An intangible benefit of writing the NewsCut blog and some other blogs I pen are the connections blogs can make between unrelated people.
I've already written, for example, about how the connections created by a tornado and the reach of the Internet helped a widow in a tornado-ravaged city in Indiana get a picture of her husband back from a man in a Cincinnati suburb who found it on his lawn (that picture, by the way, was returned to Marta Righthouse Tuesday evening).
Then there's this post from 2009 about the first person killed in the first Gulf War. Every year on the anniversary of his death, it seems, I hear from a member of the family who discovers the post via Google. The Internet and its search engines make it hard for people to be forgotten.
Today I was reminded again of the "connections" the Internet can give us.

My brother, Mike, died last week in Massachusetts and I was asked to say a few words at his graveside service. So I told the story of Everett Ek of Rochester (left), whose obituary appeared in the Star Tribune last week (you can also find it in the Rochester Post Bulletin). I'm a big reader of obituaries, especially the ones that capture the personality of the individual, rather than follow the boilerplate copy that renders most obits sounding like the one before.
Everett Ek's wasn't like that:
Everett enjoyed his final days. He shared a visit with Kellen, his great-grandson, on Saturday. "Papa" made scrambled eggs for his granddaughters, Alahn and Korah, Sunday morning after their stay over. Monday, he went cruising on his Harley and cleaned out his man cave, aka the garage. Tuesday morning found him savoring a Grain Belt in his man cave with Bob, a morning coffee klutch buddy. Later, when he went out to work in the yard on that beautiful day, he fell to the ground and was gone. Everett and his dad each lived their lives to the fullest, 72 years and 48 days.
Because I told Mr. Ek's story to a group of people 1,200 miles away, many of them also shared the stories of my brother — the motorcycle rides he made and his habit of showing up for camping trips with 10 pounds of pork chops and only 10 pounds of pork chops. None of it was headline material; all of it provided a much more valuable snapshot of his life, more than any company he worked at or award he received.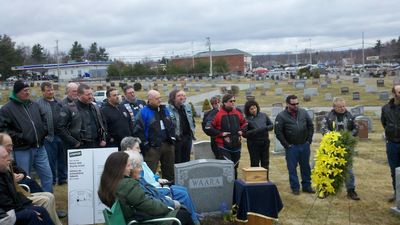 Everett Ek died this week after making scrambled eggs for his granddaughters and because he did, you know that he once was on this earth and mattered. A woman loved purple, another loved her fax machine, and my brother just got his last ride from some other good and decent people.
I posted my remarks on one of my personal blogs. The phone rang in the NewsCut cubicle today. "This is Mrs. Everett Ek," she said, and I knew immediately who she was. A relative had also found the post via Google and called her to say, "you won't believe it."
She said she didn't want the obituary to be like all the others so she told it to a friend who wrote it. Today, I learned that Mr. Ek, who apparently always wanted to ride a motorcycle, finally did so at age 69 at his wife's urging. He was the oldest person in the motorcycle safety class at the community college, a class that called him "Papa."
They had a nice funeral, she told me, especially when they opened the doors of the church to hear the person outside revving up the engine on the motorcycle. It was a Catholic mass with the usual amount of standing, sitting, and kneeling. A faithful family dog attended and sat and stood as custom dictated.
None of these things is "headline material," and yet these are the threads that connect us. Because a man in Rochester made eggs for his granddaughters, a man who loved pork chops died in Massachusetts, and some guy in Saint Paul writes a blog for a living, we are never really forgotten.
Photo top: via Ek family
Photo bottom: via Collins family