Making the best of bad, a gastro review at the Fair, us spying on us, is the era of cheap food over, and the joy of Wiffle Ball.

Five interesting themes of the day in absolutely no order of significance.
The Minnesota Legislature holds a one-day disaster session today (there's your softball, go ahead and hit it) to approve money for the people of the Northland, who were nearly wiped out by the June flash floods.
This video has just crossed through the inbox. Some people saw opportunity in the disaster…
The foodie site, Heavy Table, has taken a bullet for the rest of us, sampled this year's offerings at the Minnesota State Fair, and issued its annual review this morning.
The classic walleye roll takes top honors:
This Northwoods twist on a lobster roll won plaudits across the board. The finely chopped smoked walleye salad was a perfect balance of fish, lettuce, and mayo, each element presented with a freshness and sense of proportion that was doubly pleasing when considered with the thick, buttery brioche toast underneath. Flavors of dill, garlic, and caraway added interest and depth to this light, more-than-the-sum-of-its-parts blue ribbon winner of a State Fair dish.
Fresh fruit on a stick takes the "mostly stupid" category.
A very simple request: don't fry the fruit again, please. We could not taste the fruit because of the fried batter, and that largely defeated the purpose of eating it. Not bad, but not really sensible either.
Related: Bill Roehl at Lazy Lightning looks at the new food at the Fair.
Almost as a matter of instinct, we Americans don't usually imagine the country has an elaborate network of programs to spy on us. A "codebreaker" for the National Security Agency had enough. He told his story to a documentary filmmaker who was on the government's "watch list." He resigned his job after the tools he helped create to spy on other countries were turned on us.
William Binney.'s story, documented in the New York Times, is another reminder that the hijackers on 9/11 only crashed four planes. Everything else, we did to ourselves.
(h/t: Bill Catlin)
4) THE DROUGHT: FREAK OCCURRENCE OR CLIMATE CHANGE?
It's the headline on a CBC story today, but it contains another significant question: If droughts are to be a regular occurrence, the price of food is going to skyrocket. Is the era of cheap food over? The price of corn is already going up, thanks to the drought. The crop will be the smallest in the U.S. in 17 years.
Which is why the headline is important. If it's a freak thing, we can live with it. If this is the new "normal," we've got a big problem.
These pictures in the Brainerd Dispatch about a wiffle ball tournament last weekend (there are more than 140 images!) got us thinking: Is there a better game ever invented than wiffle ball?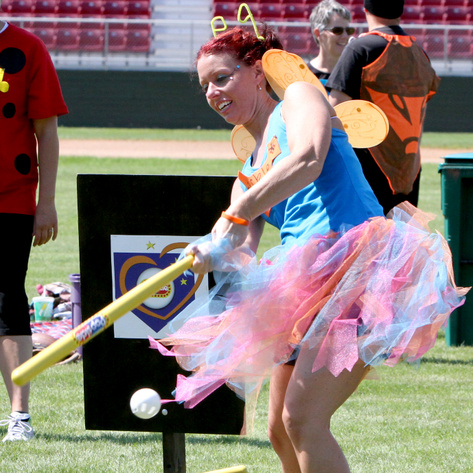 Bonus I: Science!
Bonus II: Flying nightmare: Flying with a cello.
TODAY'S QUESTION
President Obama and his Republican challenger, former Gov. Mitt Romney, have been getting roughly equally negative treatment in the press, according to a new study. The Pew Research Center's Project for Excellence in Journalism finds that about 71 percent of the coverage of Romney's character has been unfavorable, compared with 72 percent for Obama. Today's Question: Does press coverage of Obama and Romney seem equitable to you?
WHAT WE'RE DOING
Daily Circuit (9-12 p.m.) – First hour: Paleontologist Kristi Curry Rogers has spent her summer out in the field searching for the bones of baby long-necked dinosaurs and retracing the steps of a 19th Century paleontologist. She'll join Kerri Miller and Tom Weber out at the State Fair to discuss our rapidly evolving understanding of dinosaurs.
Second hour: Answers to your home-repair questions.
Third hour: A rebroadcast of Kerri Miller's conversation with blues legend Buddy Guy, and Tom Weber's discussion with Belgian singer-songwriter Selah Sue.
MPR News Presents (12-1 pm): Live at the Minnesota State Fair. Kate Smith hosts Chris Farrell, answering questions about the economy and personal finances.
Science Friday (1-2 p.m.) – The Curiosity rover had a perfect touchdown on Mars, but what's it doing now?
All Things Considered (3-6:30 p.m.) – Jan Klein's great great grandfather, a white settler near Milford, was killed as part of that massacre during the U. S. – Dakota War. MPR's Dan Olson talks with her during a walk through the Minnesota Historical Society exhibit on the 150th anniversary of the conflict.
Both Minneapolis and St. Paul are taking steps to make their regulatory bureaucracies faster and less confusing. Leaders in both cities say streamlining the permitting, inspecting and licensing process will make it easier for businesses to open, expand and relocate in the big city. They hope it will breed good will with the residents, too. MPR's Curtis Gilbert will have the story.