When people do their jobs, the mammogram debate, when the jocks step up, what hath the San Francisco Giants wrought, and those magnificent cameras in their flying machines.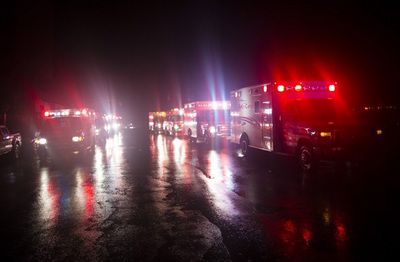 There are plenty of places on the MPR website to follow Hurricane Sandy. We have the live blog, Updraft, and, of course, plenty of news stories. So, you don't need me to pass along information that's already out there, and yet it seems oddly trivial not to include Sandy in today's 5×8. So let's just stick with this: They got it right.
It was almost two weeks ago that local meteorologists warned a storm, the likes of which we've never seen, would hit the northeast. There was no reason to pay much attention. With their record of hyperbole, the media buildup to the storm largely was met with skepticism, but government officials went ahead anyway and insisted people pay attention until they did.
Somehow, New York evacuated a low-lying area of the city that held a population the size of Minneapolis on Sunday, and still many people wondered what the big deal was. People rode out the storm, and were rescued — most of the time — by the first responders they deliberately put in harm's way by doing so.
Anyone driving westbound last weekend saw what one friend saw over the weekend, miles and miles of electric utility and tree-service trucks heading East.
Overnight, backup power systems failed at a hospital and in a short period of time, 215 patients were evacuated to safety in an extraordinary operation.
Millions are without power, dozens of homes have been destroyed, more than a dozen people are dead. No doubt, there's more suffering to come. The stories of our failures will surely follow.
And yet, even as the political ads continue to reinforce that we're a nation of crooks and liars, people are rightly concerning themselves with what they can do to help ease the suffering of people they don't know, and aren't asking about politics first.
Related: The effect of a hurricane on an election. (Fivethirtyeight)
Why do people wait in lines? (NPR)
The hidden costs of a hurricane. (BBC)
A night with Hurricane Sandy (TV Fury)
One of the people rescued from the Bounty was a Minnesota native (KARE)
For every one person who is saved by a mammogram, three are overtreated because of it. That's the stunning conclusion of a new study out this morning that is sure to reignite a debate that has simmered since another study a few years ago recommended younger women (those under 50) need not be regularly screened for breast cancer.
"Cancer charities and public health authorities have been misleading women for the past two decades by giving too rosy a picture of the benefits," said Karsten Jorgensen, a researcher at the Nordic Cochrane Centre in Copenhagen who has previously published papers on overdiagnosis.

"It's important they have at least acknowledged screening causes substantial harms," he said, adding that countries should now re-evaluate their own breast cancer programs.

In the U.S., a government-appointed task force of experts recommends women at average risk of cancer get mammograms every two years starting at age 50. But the American Cancer Society and other groups advise women to get annual mammograms starting at age 40.
In Queen Creek, Arizona, a special needs student was being bullied in high school. So the cool kids on the football team stepped in.
(h/t: Ben Chorn)
4) WHAT HATH THE GIANTS WROUGHT?
Every now and again, the game of baseball actually bucks conventional wisdom and changes. Years ago, there was no such things, for example, as a "closer" in the bullpen. Now, Hardball Times today considers whether baseball might see an attempt at a "super closer," thanks to the San Francisco Giants taking their Cy Young Award-winning starter and putting him in the bullpen (OK, he was having a bad season, but work with me here).
His success prompted Bruce Bochy to give Lincecum a start in the NLCS, and his results looked a lot like the majority of the games he'd started this season, struggling through 4.2 innings and allowing four runs. After that, it was back to the bullpen for Lincecum, where he pitched two 2.1-inning outings in games one and three to contribute to the team's World Series sweep. All in all, Lincecum pitched 13 innings out of the bullpen this postseason and allowed a single run, a sac fly in the NLDS.

Lincecum's postseason dominance begs the question of whether this could be a useful strategy for a team during the regular season. The potential problems are numerous, so no team has bucked the recent trend of ever-increasing bullpen specialization and ever-shorter outings for relievers. However, I believe that this role could be a huge market inefficiency for the right team, with the right philosophy, the right manager, and the right guinea pig of a pitcher willing to give it a shot.
5) THOSE MAGNIFICENT CAMERAS IN THEIR FLYING MACHINES
More FPV — the little helicopter-like gizmos — video, this time of the Twin Cities.
Twin Cities FPV from StrangerDejaVu on Vimeo.
TODAY'S QUESTION
MPR News is sponsoring a series of debates in St. Paul's Fitzgerald Theater this week. Tonight, it's voter ID. Today's Question: Which way will you vote on the constitutional amendment that would require voters to present photo identification at polling places, and why?
WHAT WE'RE DOING
Daily Circuit (9-12 p.m.) – First hour: The effects of unemployment on individuals is clear, but what do we know about the impact of unemployment on children?
Second hour: Peter Bergen, author of "Manhunt," which documents that search and the extraordinary effort to find Osama Bin Laden.
Third hour: Third District Congressional debate.
MPR News Presents (12-1:30 pm): Sixth District Congressional Debate from St. Cloud.
All Things Considered (3-6:30 p.m.) – Continuing coverage of the hurricane.