Boogaard family sues NHL, return of vinyl, the people on the street, more on the ice attacks, and another space odyssey.

I will be live-blogging today's floor debate at the Minnesota Senate on the same-sex marriage bill. Please join us in this spot and offer your commentary and analysis.
Here's the Monday Morning Rouser:
When the New York Times did its excellent expose on how former Minnesota Wild enforcer Derek Boogaard suffered severe head trauma and got addicted to painkillers, it cast light on the National Hockey League enforcer — why we gleefully cheer their fights on the ice, and why the teams in the league patch them up and send them back out.
At the time, the Minnesota Wild had nothing to say about their possible role in Boogard's death.
That might have to change. Boogaard's family is suing the league, the New York Times reports.
While this Boogaard lawsuit is broadly aimed at the N.H.L., it details the care that Boogaard received from specific team doctors of the Rangers and the Minnesota Wild, and the co-directors and a primary counselor of the league's Substance Abuse and Behavioral Health Program, which oversaw Boogaard's care after he entered rehabilitation while playing for the Wild in September 2009.

In July 2010, after five seasons with the Wild, Boogaard signed a four-year, $6.5 million contract with the Rangers. His last game was on Dec. 9, 2010, when Boogaard sustained a concussion — one of dozens, the family believes — during a fight in Ottawa.

The next April, after stumbling on the ice during a Rangers workout, Boogaard was sent to drug rehabilitation a second time. It was during that stint that he was granted two extended, unsupervised recesses. He died in his Minneapolis apartment on the first night of his second leave.

The lawsuit notes that Boogaard played in 277 N.H.L. games over six seasons and scored three goals. He fought at least 66 times on the ice and, according to the suit, "was provided copious amounts of prescription pain medications, sleeping pills, and painkiller injections by N.H.L. teams' physicians, dentists, trainers and staff" to combat the injuries and pain he endured.
In just one season with the Wild, 2008-2009, a dozen doctors prescribed 1,021 pills, the lawsuit says.
Asked about the lawsuit, a Minnesota Wild spokesperson declined comment.
2) COMING SOON: 8 TRACK TAPES?
Take note, whippersnappers: For the fifth consecutive year, more vinyl record albums were sold than the year before. They're back, baby!
The St. Cloud Times reports on a man who had a sale of vinyl on Saturday, and people lined up to shop.
"When CDs came along, I thought they were cool and everything, but they just didn't feel like the real artifact," Tom Dehler told the paper. "I think when MP3s came out, that really dominated. Obviously, iTunes has become the world's biggest record … I think there's a whole generation of people that are missing the cover art and the liner notes. (Things that) when you see them you think, 'Wow, this is really cool.' "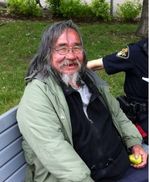 This is Alvin, a person on the streets in Canada with occasional run-ins with the police. So when he died recently, a police officer penned a eulogy.
Many other officers kept an eye on Alvin over the years and would usually end up giving him parts of their lunch, cigarettes, toques or mittens (which he would always lose), and usually whatever spare pocket change we had. I knew Alvin was continually counting his money as he would ask for some random denomination such as 63 cents. Funny enough, one day he asked my former partner Cst. Robbie Taylor for 63 cents and when Robbie reached in his pocket, he had exactly that amount and graciously gave it to Alvin.

Alvin was famous for losing his glasses. Quite often we would see him in the downtown area with no glasses on and he would usually tell me that he got into a fight. I knew better, knowing that he likely either just lost them or that they broke when he took a fall. I usually told him to come to the station and I would see if I could find him a new pair.

There are boxes of donated glasses at the station and whenever Alvin 'lost' his, I would go grab a few pairs, a newspaper and then do a reading test with him till he could find a pair that worked. If possible, I would set him up with an old pair of sunglasses as well. He was always pretty excited about those.
(h/t: Ali Lozoff)
Related: The trouble with Alvin
Those videos (available here) of the ice going ashore at Lake Mille Lacs were absolutely fascinating, but nowhere near as compelling as what was going on north of Minnesota. At Dauphin Lake in Manitoba, a similar condition destroyed homes. (h/t: Paul Weimer)
"You know you've got cement, concrete blocks, and steel and the ice goes through it like its just a toothpick," a homeowners told the CBC. "It just shows the power. There is nothing you can do, you just get out of the way and just watch."
Meanwhile, back up at Mille Lacs, yesterday's satellite pass shows there's still plenty of ice on the lake.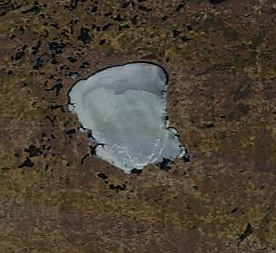 The world's coolest astronaut — Cmdr. Chris Hadfield — returns to earth today. Before he left command of the space station, he created space's first music video.
Bonus I: The controversy surrounding pink bats used in Major League Baseball yesterday shows the usual problem when big money meets the display of big-business charity.
Bonus II: Each year, Dorset, MN., pulls the name of its next mayor out of a hat. Meet the 4-year old mayor.
TODAY'S QUESTION
Same-sex couples who've been together for years will soon have the option of getting married if the Minnesota Senate, as expected, passes legislation today legalizing same-sex marriage and recognizing out-of-state marriages.
Today's Question: How would your life change if same-sex marriage passes in Minnesota?
WHAT WE'RE DOING
Daily Circuit (9-12 p.m.) – First hour: Former Secretary of State Madeleine Albright (Rebroadcast)
Second hour: Ken Burns, filmmaker. (Rebroadcast)
Third hour: As the Senate prepares to take up gay marriage, we'll hear from local and national voices on the historic vote.
MPR News Presents (12-1 pm): Living a Low-Carbon Life" a panel discussion from the Commonwealth Club.
Talk of the Nation (1-2 p.m.) – TBA
All Things Considered (3-6:30 p.m.) – Grand plans to rescue Detroit's industrial economy have come and gone. Now, some social entrepreneurs are thinking small. They're filling an empty warehouse with start-up companies. And those businesses are filling with local employees. NPR reports on a small-scale comeback for Detroit.