NBC has created the perfect use for Twitter today with its #dreamday hastag, giving people the opportunity to express their dreams on the 50th anniversary of the march on Washington and Martin Luther King Jr., "I Have a Dream" speech.
Most of the responses are quite touching…
I have a dream that one day we will all come to terms that people are all truly equal no matter the race or social class #DreamDay

— Tristan Butcher (@Tristan_Butcher) August 28, 2013
NBC used virtually every major social network to assemble its DreamDay presentation.
But there's always that one company that employs a social media editor with a bad grasp of history. In this case, it happened to be a TV network owned by NBC.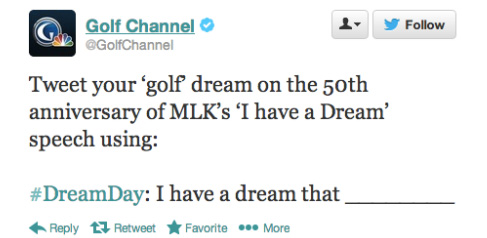 It was only up for about 20 minutes before an adult took over and deleted it.