1) WHAT CAUSES THE ACHIEVEMENT GAP?
Most parents don't have the problem African American parents in Minneapolis have. Everyone has big plans for their kids when they're little, but the statistics say it's misplaced hope in the state's third-largest school district. Four of every five American-born black children aren't proficient in reading and writing in the district. Only one of every three graduates on time.
Black students are behind from the moment they start school, the Star Tribune reports today. Black kindergartners enter school trailing whites by 21 percentage points in preliteracy skills. And, somewhat surprisingly, poverty makes no difference in students' success, a new report says.
Is it cultural? Is it systemic? The achievement gap has persisted for years and nobody seems to have an answer to the question, which, again, puts parents in a bad spot: Do they stay in the system that may/may not be broken? Or do they leave?
"I wasn't valued. I wasn't treated as a stakeholder, and it was full of stories of discrimination at every last turn of decisionmaking," one parent who moved his child to a district in another state tells the Strib. "For a black male parent, that was my experience. I can only imagine his experience in a classroom."
There are some encouraging signs. The district has cut its reading gap with the state in the past three years. The paper says the district also has identified the better teachers.
"My son is the next Barack Obama. He's smart," one parent of a young child said. "If I have stay up late every night and work on my son's homework, I'll do that. If I have to call the teachers, I'll do that. If I have to go to school every day with my son, I'll do that. I'm a dedicated parent."
Good start.
Related: Study finds high SAT and ACT scores might not spell success at college (PBS).
More race: Two people try to break into a car. One is black. One is white.
2) PICTURING HUNGER
Most people in the U.S. are just one bad break away from being hungry. A year ago, PBS NewsHour reports, Robin Dickinson, 32, a family practice physician, was making good money, had a stay-at-home husband, two young children, and a nice home in the suburbs.
What could go wrong? Two strokes that left her unable to work.
"We were down to the point where we were eating potatoes and oatmeal and rice," she said. "And one night, it suddenly occurred to me, we qualify for assistance. There's a safety net there for a reason. It's for people in our situation."
"It's — it has nothing to do with your education. It has nothing to do with how good a person you are or how hard you work. It has everything to do with your financial situation. And our financial situation was really bad."
Now, she speaks out about how prevalent hunger is among the working and middle class.
True, the piece does carry a "we're not like them" subtext.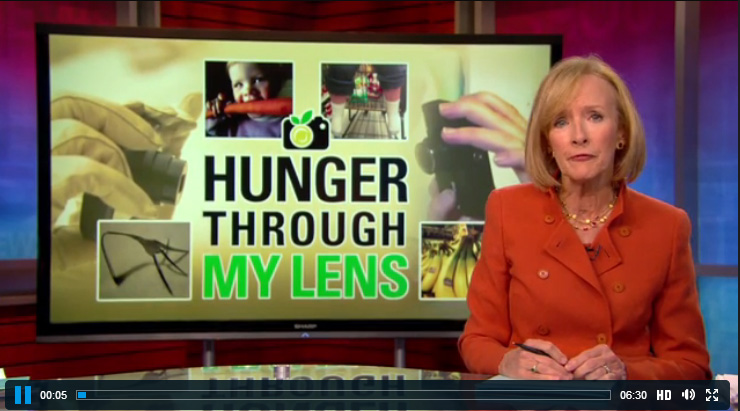 3) KIEV IS BURNING
It's hard to get too upset about a coming snowstorm when you spend any time at all watching the compelling live coverage of real life coming from Kiev. Twenty-five people have been killed in the last 24 hours in clashes between police and protesters who oppose the country's turn back to Russia instead of the European Union.
This is the picture I found most mesmerizing yesterday.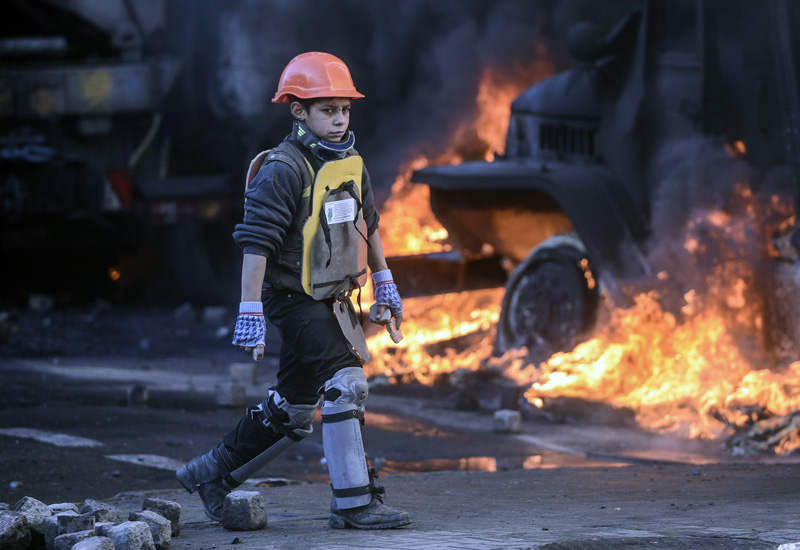 Here's live video from the city:
As with previous recent revolutions, social media is providing the megaphone for the messages that, in decades past, could be muted.
4) IT'S LIKE NOT KISSING YOUR SISTER
We're pretty well past the part where we believe anything coming out of sports stadium crowds anymore. It's a rare instance — in fact, we can't think of one — that isn't a setup by some marketing department. Now, we have this from the University of Minnesota from last Friday night's hockey game.
A guy acting much too cool just happens to have a sign with him in case he gets spotted with his sister during the Kiss Cam? And goes to a hockey game with his sister. On a Friday night? It's got to be a fake.
It's not.
WCCO's Mike Binkley tracked down Adam Martin, the too-prepared brother in the video.
"Bringing her to the game on Valentine's Day," he said, "the perception whether at the game or before it is that we'd look like we were on a date, so I wanted to make sure that there was a clean line, a sibling line between the two of us."
5) FROZEN SUPERIORITY
The time lapse video of the freezing of Lake Superior makes us realize just what a fascinating phenomenon a 100% frozen Lake Superior is.
Related: Overwhelmed by visitors, park needs back-up to handle ice cave crowds (Minnesota Public Radio News).
Bonus I: A tale of two University of Minnesota cities. University of Minnesota Duluth is about to cut millions from its budget, the Duluth News Tribune reports today. The percentage of the budget that comes from tuition is much higher than the Twin Cities U of M campus.
From 2009-13, UMD's unrestricted portion of that money declined by 41.6 percent. Comparing that to the U of M campus, Duluth received a much smaller percentage. University officials have said it's an unfair comparison because some state money in the Twin Cities budget is spent elsewhere in the state, for example.

"You stubbed your toe on undergraduate enrollment a couple of years ago, and that has cost you continuing ongoing tuition revenue, so you have sort of a perfect storm," University of Minnesota President Eric Kaler said to UMD faculty in a Monday meeting on campus.

Since fall 2011, enrollment has dropped by more than 550 students. Total enrollment this fall was 11,241, but a 9 percent increase in new students is projected for next year. UMD lost $5.4 million in tuition revenue in the past two years.

Kaler and other administrators from the Twin Cities were in town meeting with UMD officials, staff and students, with the intention of addressing budget concerns. Many faculty members at the meeting asked that more costs be shared by the U of M, and that cuts not be made to academic departments. Some said they felt there was a regional bias against Duluth; that decisions were often made in the Twin Cities that affect the Duluth campus and that money wasn't always fairly shared.

There's no bias in financial decisions, Kaler said.
Bonus II: Coming soon to a Marcus theater near you: Liquor? (Fargo Forum)
Bonus III: There've been three potential disasters at railroad crossings in the last couple of days in Minnesota. Why?
Bonus IV: NSA, homeland security settle lawsuit with Sauk Rapids man over satirical business (St. Cloud Times).
Bonus V: Woman buys all 'indecent' shirts to remove them from store. (h/t: Derek Schille)
WHAT WE'RE DOING
Daily Circuit (9-12 p.m.) – First hour: Minnesota Senate leaders discuss the upcoming session.
Second hour: The resign of Nicollet mall in Minneapolis.
Third hour: First responders to dying marriages.
MPR News Presents (12-1 pm) – From the National Press Club: Energy Secretary Ernest Moniz.
The Takeaway (1-2 p.m.) – Kiev
All Things Considered (3-6:30 p.m.) – Officials plan to convene a caucus meeting tonight at the University of Minnesota. The caucus never met on Feb 4 in the Cedar Riverside neighborhood because an altercation broke out. MPR's Laura Yuen will have the preview.
A vaccine for children against HPV represents a medical advance. It's hard to argue against a vaccine that helps prevent cancer. But vaccination rates lag and efforts to prevent some sexually transmitted cancers suffer. NPR reports on promoting the HPV vaccine.