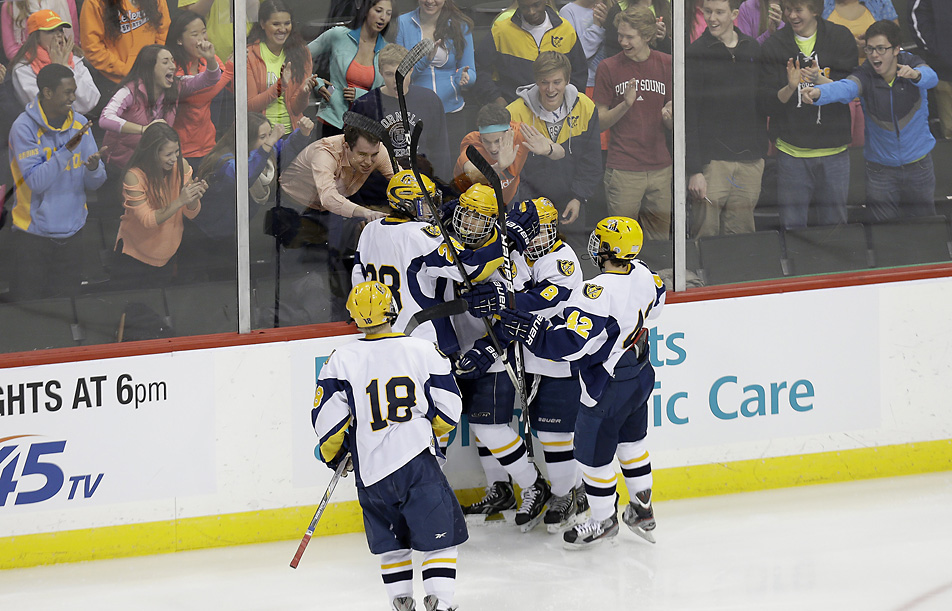 If we can't get excited about Minnesota's kids — the ones that perhaps don't have NHL careers ahead of them — playing for a state hockey title, can we really call ourselves the state of hockey?
The upper crust of the hockey world is clutching beads because many of the "elite" players have left the state in the rear view mirror to play hockey elsewhere, apparently leaving the state's high school hockey tournament full of teams with merely really good hockey players, the Star Tribune says.
It took the drama of Benilde-St. Margaret's Jack Jablonski's paralysis to stem, temporarily, growing disinterest in the tournament, the Star Tribune reports. Ticket sales peaked six years ago.
"With all the kids that are leaving, you could have trouble down the road," said Tom Saterdalen, the former coach of Bloomington Jefferson championship teams.
It's hard to shed a tear, though, since when the puck drops this morning on the tournament, some fans will have waited years for season tickets, and the tournament will pocket $1 million in profit. There are 800 people still on the waiting list for season tickets.
So which is it? A roaring success? Or a pretty flower dying on the stem?
The usual teams are playing again in this year's tournament. Luverne and New Prague are making first appearances in Class A and Stillwater Area is making its first appearance in Class AA, according to the State High School League.
The tournament will feature at least one big name. Gary Thorne, who has called more than his share of NHL games, will be providing the play-by-play call for Channel 45's coverage.
"This is a high school event," he said in a conference call this week. "These are men, but they're not far from being kids."