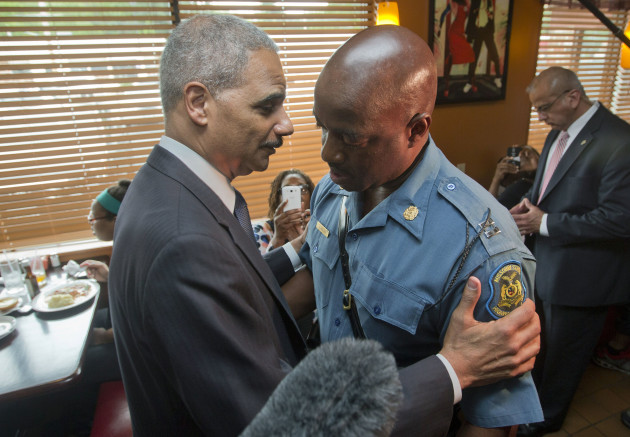 The difference in reactions to the disturbances in Ferguson, Mo., where a white police officer shot an unarmed young black man nearly two weeks ago, sadly isn't surprising.
Many white Americans reportedly think the black community's anger over Michael Brown's death – indeed, the growing movement in Ferguson to address longstanding inequities — and the news media's coverage of it are a bit much. Some might say the protests give the impression of a "race war" on the ground in greater St. Louis, where relations between the larger white community and blacks really aren't that bad.
Such views point to stark differences in public opinion over whether Brown's shooting is about race.
But make no mistake, the nation's judicial system has long been discriminatory. Blacks are imprisoned for drug offenses far more than whites, more likely to be stopped than white motorists, and more likely to face harsh sentences than white offenders for the same crimes. In Missouri, about one in four blacks has experience with the criminal justice system.
"The criminalization of black men has been an ongoing phenomenon since the abolition of chattel slavery in this country and has resulted in low-income black men being constant targets within society and subjected to a heightened level of scrutiny and interference by police and security personnel," writes Nekima Levy-Pounds, professor of law at the University of St. Thomas.
For too many black people in Ferguson, unpaid traffic tickets can lead to arrest warrants – and jail time, a local public defender Thomas Harvey told Sarah Kliff of the website Vox.
Attorney General Eric Holder acknowledged such disparate tensions Thursday, when he spoke of his meetings with Johnson's family and members of their community.
"In my conversations with dozens of people in Ferguson [Wednesday], it was clear that this shooting incident brought to the surface underlying tensions that have existed for many years," Holder said. "I wanted the people of Ferguson to know that I personally understand that mistrust. The Department of Justice and this attorney general stand with Ferguson."
In just a short comment, Holder said more than President Obama did two days ago. Holder, who was as young man during the heyday of the civil rights movement participated in protests at Columbia University, gave voice to the frustrations in Ferguson and beyond, tensions that also point to disparities in employment, education and health.
The attorney general said there needs to be a greater sense of trust between police and the communities they serve, a discussion about the "appropriate use of force" and fair treatment for all.
If only we could get beyond the images in Ferguson, where a photo NPR reporter Sheeren Marisol Meraji posted Wednesday appears to show how much the community isn't welcome at the courthouse.
In Clayton (St. Louis county seat) Grand Jury to be seated. Protestors want prosecutor to step down. #Ferguson pic.twitter.com/IaqIw8CG2g

— Shereen Marisol (@RadioMirage) August 20, 2014