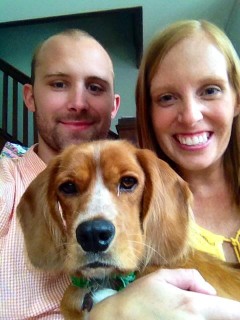 There's more to define Jenna (Langer) Vancura's life than her battle with cancer. But her illness has consumed a lot of it.
The 27-year-old New Ulm, Minnesota, native spent much of her senior year in high school at the Mayo Clinic.
"I remember sitting in the room with either of my parents on either side of them and the doctor put the CT scan up on the wall and he said, 'obviously this is cancer,' and all I remember is my parents crying next to me," she told MPR's Kerry Miller during a 2012 Daily Circuit program on young people with cancer. "I knew it was bad."
"You just pack up your life and move into the hospital," she said, acknowledging that it was an abrupt end to childhood.

By the time she was 25, she had already had three bouts of cancer.
MPR News colleague Emily Kaiser, who was moved to join the bone marrow registry because of Jenna's story, documented the meeting Langer had in November 2012 when she met the woman who donated her bone marrow to help save her life.
In a perfect world, the story would have a happy ending. But it's not a perfect world.
On her blog today, she announces that her illness has reached a new stage.
On Tuesday, 11 years to the day since we first found my cancer, my doctors bravely told me that my body was finally succumbing to the disease.

It's that realization nobody wants to have, but most need to have at some point. My mom thanked my doctors for their honesty; it's hard to come by.

My nascent bone marrow just can't handle the assault of medicines. I mean poisons. We're worried I may even be losing my marvelous Maxine graft because my blood counts just keep falling and don't recover. I've been getting fevers of 103 degrees for the past several nights, but only at night. My liver tumors have multiplied from three to 13. Something in my head is blocking my ability to articulate speech, so I sound mumbled. And of course there is not yet a drug developed that targets the genetic mutation we found my tumor has.

As of now, we're stopping curative care and stepping up palliative care. Sometimes when you keep insisting on fighting, you can't keep living. We're not giving up, but we recognize that my body is begging for mercy. We have to weigh any long-shot treatments against the harm they might do to my quality of life.
She and her husband were going to go away this weekend. Then they got into a car accident on Monday. Then she got sick, and then she got this week's news.
Our friends heard about it all and pooled their money to send us on a ridiculously indulgent anniversary trip this weekend. Jimmy's uncle gave us his frequent flyer miles.

We decided to reschedule our Charleston trip and go whether I'm sick or not. We are staying in the prettiest places in Charleston and I get to wear all my pretty dresses.

We get to wheelchair around to all the history, along the harbor and past the grand old plantations. We get to clink a few champagne glasses (or a teacup and glass of brandy) to the tremendous year of non-stop laughter and love we have spent together.
She titled today's blog post, "Life."
(h/t: Emily Kaiser)