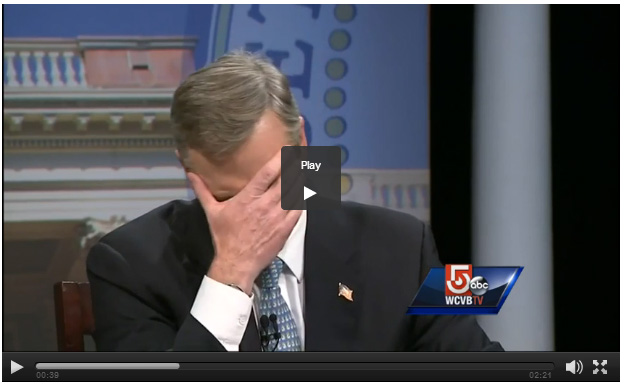 A man cried during a political debate last night. Does it make a difference?
It derailed Pat Schroeder's career when she cried in 1987, and it staggered Hillary Clinton when she sniffed a bit in New Hampshire in 2008. "Big girls don't cry," CBS News declared in a 2002 story on the political problems of crying, especially if you're a woman.
Last night, one of those "lightning round" questions (like the "when's the last time you fired a gun?" question in a gubernatorial debate in Minnesota two weeks ago) caught Republican Charlie Baker during a gubernatorial debate with Democrat Martha Coakley in Massachusetts.
The question? When was the last time you cried?
Baker choked up when he talked of meeting a fisherman during the campaign.
"He pointed to these two boys on the boat and he said 'those are my sons' and he said 'they were both spectacular football players at New Bedford High School, who were given college scholarships to go play football. And I told them no. I said you're going to be fishermen. I was a fisherman, my brothers were fishermen, my father was a fisherman. You're going to be fishermen. And I ruined their lives."'
Audio not found
Coakley was a little misty eyed when she talked about the death of her father.
But the moment passed and they moved on to talking points.
Guess what the headlines are today.
Baker, Coakley Strike Emotional Tone In Final TV Debate
Baker And Coakley Face Off In Emotional Final Debate
Emotional Charlie Baker describes meeting local fisherman
Tears mark shift in tone in final debate between Baker, Coakley
The question was designed to do just what it did, writes Boston Herald columnist Joe Battenfeld.
"There's nothing wrong with asking an offbeat question that could show voters a more human side of the candidates. But the gimmick has gotten old fast. Pretty much every debate now ends with a 'What actor should play you in a movie?' question," he writes today.
The moment proved Baker isn't the unfeeling candidate his opponent has painted him as in the campaign, the Boston Globe says today.
Polls consistently show that Baker enjoys a marked advantage in favorability ratings over Coakley, so it stands to reason that, with one week remaining, the attorney general would seek to prosecute him as unlikable, to ask the jury of voters to decide that the prospect of four years with him as governor is a grim one.

But Baker may have undone all of that late in the hourlong debate when he broke down discussing the plight of a New Bedford fisherman who confessed to him that, by demanding that his two sons adhere to the family tradition and make an arduous living on the sea, "I ruined their lives."

It was as raw a display of emotion as can be seen from a serious contender for high office, and perhaps a signal moment for a candidate who has consistently struggled to find the right tone to convey that he sees beyond financial data sheets.
That's not exactly the same reaction to the tears female candidates have gotten over the years.