This week, as I mentioned earlier today, MPR News used a public data request to obtain emails between Minneapolis Mayor Betsy Hodges' staff and Jay Kolls, the KSTP reporter at the heart of the now-infamous #pointergate story.
Here is the first contact between Kolls and Hodges' office through spokeswoman Kate Brickman.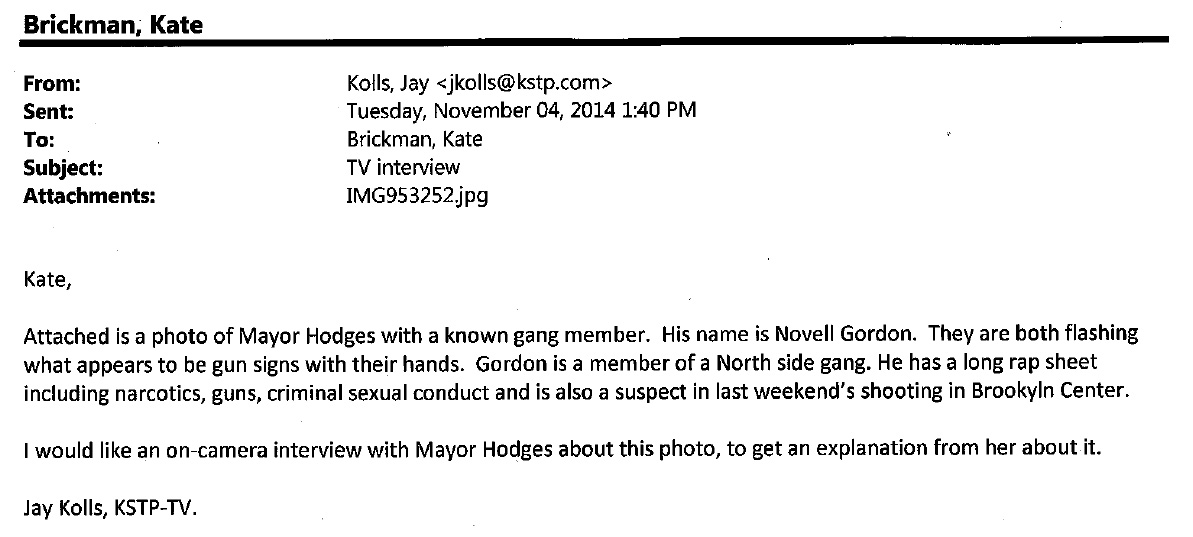 Why is Kolls' initial email important? Because he calls Navell Gordon, the young man engaged in a get-out-the-vote drive in north Minneapolis with Hodges, a "known gang member."
That changed, however, when the story aired.
(Update: In the email, Kolls pins a shooting in Brooklyn Center on Gordon. Today, in arrests of alleged gang members, officials said some of those arrested today may have been involved in that shooting.)
Kolls reported that the picture showed Hodges and Gordon pointing at each other, or — as the KSTP story said — flashing gang signs with one another. But the reporter pulled back on the accusation that Gordon was a known gang member. In the story, he says:
"They (Kolls police sources) say there's no evidence he belongs to a gang, but he has connections to gang members."
A day after the first email, and before the story ran, Brickman told Kolls she didn't understand what his story was about. Kolls explained it again, further alleging Gordon had gang connections.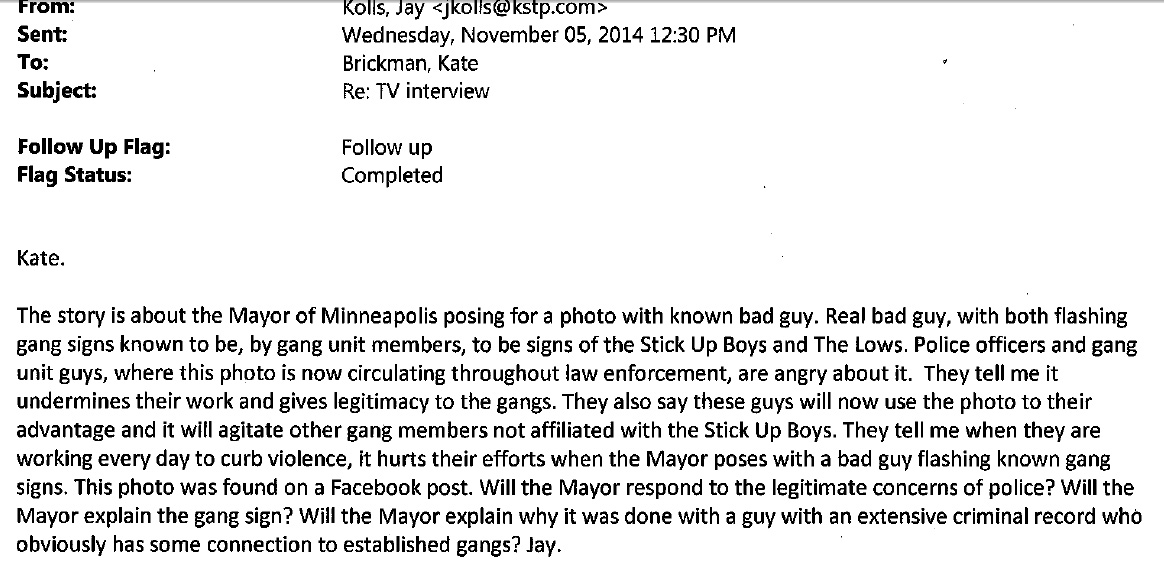 When the story aired, Gordon's alleged gang affiliation was dropped from the story — and so was the angle that Hodges was posing with "a bad guy."
The story shifted to one about whether Hodges should have known the "point" was a gang symbol.
After KSTP was inundated with criticism the day the story ran, it claimed the story was about the mayor's judgement, not Gordon.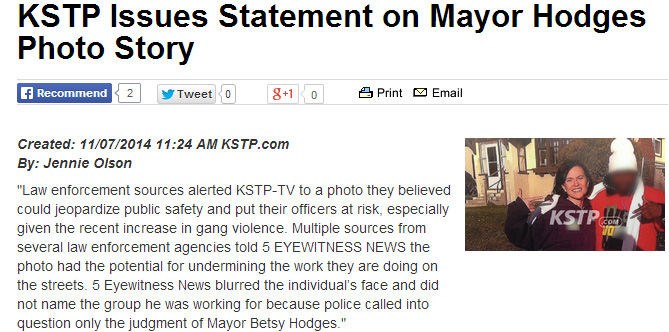 "We never made the statement that these were gang signs," KSTP owner Stanley Hubbard told MPR News last week. "We never showed the man's face. At that time we knew nothing about him. We didn't want to implicate him. We bend over backwards to be fair."
"We didn't say it; the police said it," Hubbard said.

Kolls' emails, though, show that KSTP — contrary to Hubbard's claim — knew a lot about Gordon and insisted to the mayor's staff that Gordon was a gang member.
The emails reveal the tortured evolution of this story:
1.) A reporter thinks he has the goods on the mayor. He emails her aide demanding to know why the mayor is hanging with a known north side gangster and flashing gang signs. There's even a photo!
2.) The next day when he emails the aide, the man in question is no longer a "known gang member" but a "known bad guy " with a criminal background who "obviously has some connection to established gangs."
3.) When the story runs, it says there's no evidence Gordon belongs to a gang, but that he has a criminal history and connections to gang members.
So, the story got progressively less sensational and shocking as the reporting progressed. In most newsrooms when that happens, the reporter is told by an editor to go back and rethink the story's premise, try again or bail out if the story just isn't there.
But no one stopped this one. Instead, we got: "Mpls. Mayor Flashes Gang Sign with Convicted Felon; Law Enforcement Outraged."
Related crime news: Twin Cities gang sweep nets 11 on gun, violence charges (Minnesota Public Radio News).