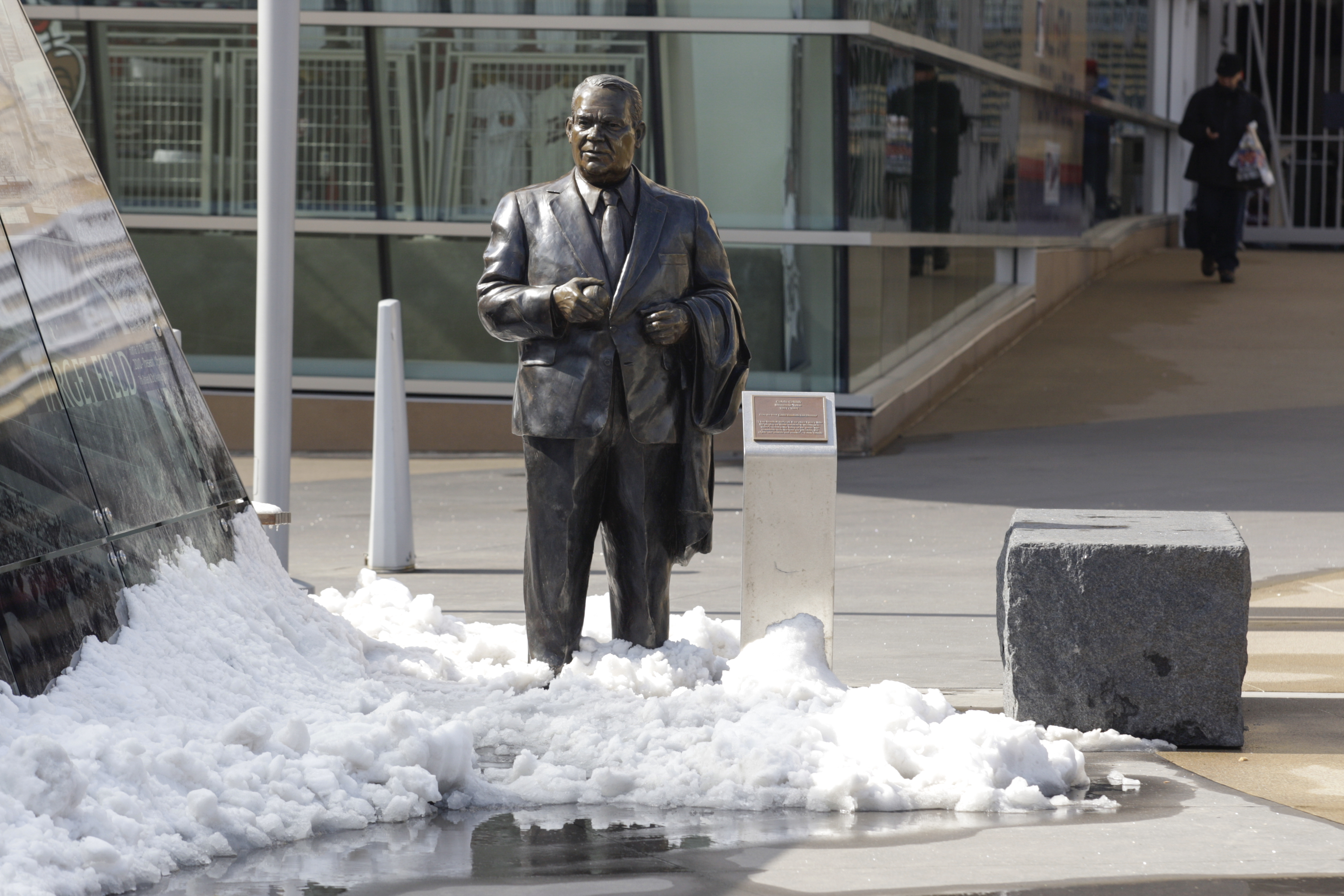 A statue of former Twins' owner Calvin Griffith stands in the snow outside Target Field in the picture from April 17, 2014. (AP Photo/Paul Battaglia)
In 1978, Minnesota Twins owner Calvin Griffith went to the Waseca Lion's Club to give a speech and never lived it down.
The only reporter in the room was Star Tribune writer Nick Coleman.
"It was when I found out you only had 15,000 black people here," Griffith said, as quoted by Coleman. "Black people don't go to ball games, but they'll fill up a rassling ring and put up such a chant it'll scare you to death. It's unbelievable. We came here because you've got good, hardworking white people here."
The comments opened up a gulf between Griffith and his best ballplayer — Rod Carew, who shortly thereafter, left for southern California in free agency.
That's part of our history. What do we do with it?
When Target Field was built, the Twins placed a statue of Griffith on the plaza. It still doesn't sit well with some people, the latest of whom is Jack Moore, who writes on Vice Sports that Jackie Robinson day yesterday would have been a good day to tear it down.
As Twins fans file into Target Field tonight, many will walk by a life-size bronze statue of Calvin Griffith standing confidently in a suit, jacket draped over his left arm and a baseball in his right hand. Target Field was built just six years ago. Griffith died in 1999 and hadn't been involved with the Twins since 1984, when he sold the team to Carl Pohlad, a Minnesota banker who made his first bucks foreclosing on farms during the Great Depression. Griffith left town hated by most of his players. Rod Carew was incensed by Griffith's racist comments and was traded to the California Angels before the 1979 season. Many others left town as soon as they became free agents, driven away by some combination of Griffith's lack of respect and his stinginess with the checkbook.

The sentiments behind today's ceremonies are noble. "Because of it, every kid who's in every ballpark will ask about Jackie Robinson," MLB president Bob DuPuy said in 2009, "and so, those memories and stories will carry on from generation to generation." But it will be hard to listen to the Twins claim to honor Jackie Robinson's legacy for one night as they continue to honor Calvin Griffith's legacy on a daily basis.
And what if they did? How will the racist past of baseball in Minnesota come up in any conversation?
This — like the question of why we have a lake in Minneapolis to "honor" the architect of genocide against Native Americans — revives the ongoing debate of whether we should bury the history we find distasteful.
At the Baseball Magic blog, Rick Prescott wrote upon the statue's unveiling that the Waseca speech wasn't all of Griffith's legacy, not by a long shot.
You see, everybody knows that Calvin Griffith wasn't always the greatest human. There are things he said and did which are essentially unforgivable. But everybody also knows that he was maybe the last of the pure baseball men, and that he was for the Senators/Twins a combination of CEO, GM, PR guy, marketer, scout, lobbyist, you name it.

He was a complicated guy, and the statue doesn't shy away from that. It doesn't try to deify this very human figure. (In fact, you're probably taller than this statue — I actually was.)

But the size of his personality, and his love of the game and the Twins, is conveyed beautifully. And the simple placement lends a realism and matter-of-factness which I found to be quite powerful. Unlike the player statues, which are surrounded by a raised mock playing surface (recently upgraded from actual infield dirt), Calvin will stand among the crowds, looking like he's going to turn around any minute and head in to his seat, just a schmoe like us who loved the game. People I know who knew him say that's how he was.
Griffith said he was misquoted by Coleman, but no matter. Until he died, he was forever seen as the racist owner of the Minnesota Twins. And, as long as that statue is there, he always will be.
History is funny like that.