In Prince George's County, Md., last week, a young woman with a 1-year-old girl had finally had enough of domestic violence, which far too often is a choice between being beaten and being homeless.
"She said she had nowhere to go and she had all these bags," said Prince George's County Cpl. Ché Atkinson told the Washington Post about meeting the woman in the lobby of his police station. She had a suitcase, three garbage bags full of clothes, a diaper box and a stroller.
And nowhere to go.
Atkinson worked the phones to try to find her a place to stay, but it would be days before some family members could pick her up.
"I have two kids and it just hit me knowing that they slept out there," Atkinson told the Post. "I felt bad because you know with all this drama she was going through, the baby was getting dragged through it too."
They hadn't eaten in two days.
So he bought them dinner and then bought a hotel room for them.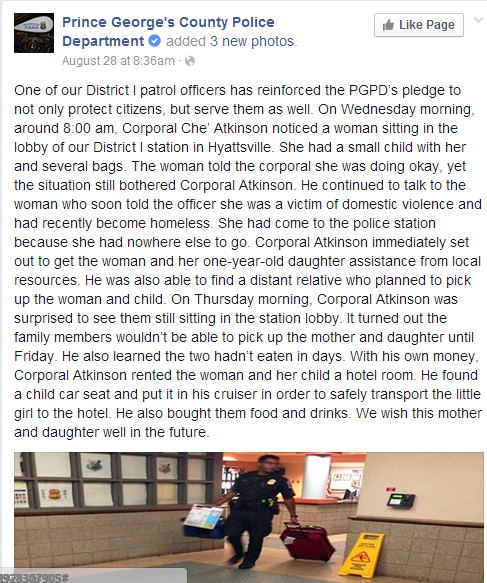 Atkinson said cops do it all the time, which is probably true. But why should they have to in a civilized society?