Football, booze, and testosterone can make for difficult times after games.
This video is circulating quickly on social media this afternoon, following last night's San Francisco-Minnesota game in which a Vikings fan gets pummeled by a 49ers fan.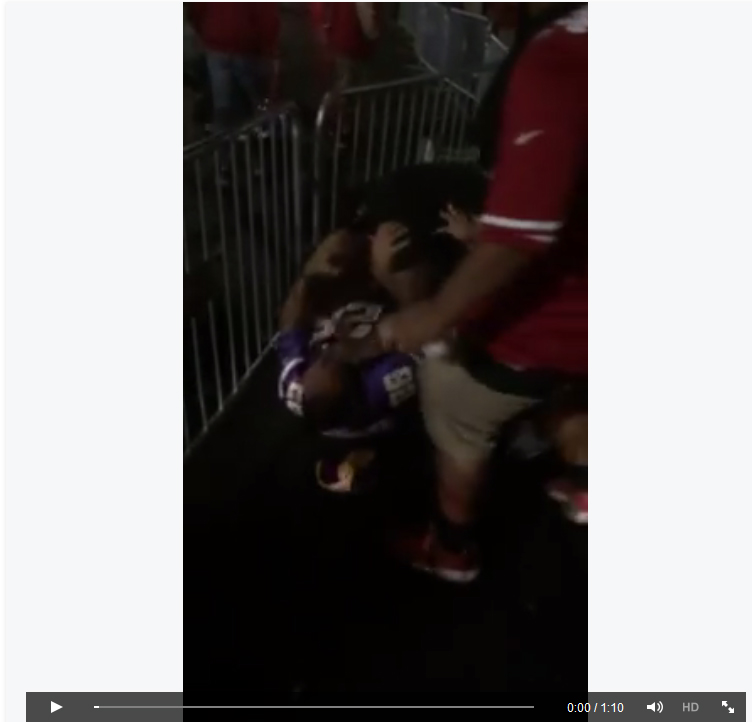 Brandon Cosio, a fan who didn't want to get involved, apparently, beyond pulling out the cellphone, described the scene on his Facebook post (censorship mine):
The Viking fan in the video and a 49er fan NOT in the video were talking smack to each other, getting into each others faces. A lot of fans from both sides were telling both people to stop and just walk to their cars.

The Viking fan shoved his wife into a barrier to try to get to the 49er fan, then at that point the 49er fan walked away from the situation and that's when the Viking fan may have got a little cocky. The Viking fan turned around and addressed everyone behind him (mostly 49er fans).

He said " what's up, any of you f****** want some?!" At that point everyone went silent for 2 seconds then as the Viking fan was turning around to walk away, the 49er fan in the black (at the beginning of the video who threw the first punch) tackled him to the ground. That's where the video starts.

Here's my quick opinion:
Don't talk ****t like that in enemy territory…he instigated the whole entire situation. Sure the 49er fans may have gone a little too far, but when you poke your chest out asking "who wants it" you're going to get it

I would like to add to this story:
ZERO cops were on the scene. ZERO. Santa Clara Police Department were no where to be found. Hopefully they can show up and arrest the parties in this video. Also give recognition to the security guard in the yellow jacket who was first on the scene, brave man getting in the middle of that brawl.
It's going to be a long season.