How you feel about the weather is a matter of perspective.
If you've lived through a few winters, maybe the Arctic blast and a half-inch of snow wreaking havoc on a morning commute in the Minneapolis-St. Paul area as it did today, rates a little bit lower than if you're a kid from Syria whose home was literally blown from under you.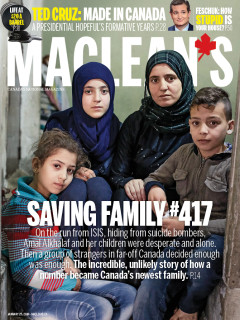 These are the kids of Amal Alkhalaf, who just moved in to a home in Peterborough, Ont.
"They are really enjoying the way Canada has been treating them," David McNab, a member of the private sponsorship group that helped relocate the family, tells Maclean's, which featured the family on the cover of its most recent edition.
McNab took the video when he took the kids for a toboggan ride.
He's a good story too, and so are the other groups and couples in the community who've stepped forward to save "Family #417".
David McNab has a nickname for his wife of 23 years: the freight train of enthusiasm. When Kristy Hiltz puts her mind to something, in other words, don't even think about standing in her tracks.

The moniker fits Dave just as well. "We tend to look at things in terms of: 'How can we help?' " he says. "Or at least we try to."

Their own marriage is proof of the couple's devotion to seeing things through. Dave met Kristy during a Jamaican vacation, and they embarked on a long-distance love when both returned to their homes (Kristy to Peterborough; Dave to his Ontario Provincial Police posting in Haileybury, five hours north).

Although Const. McNab did secure a transfer to Bancroft (only 100 km from his fiancée), another 18 months would pass—including seven as husband and wife—before the couple lived under the same roof. Dave has been stationed in Peterborough ever since.
Related: Intelligence Squared debate: Should the US let in 100,000 Syrian refugees? (MPR News Presents)