Cesia Abigail, 25, owner of Abi's Cafe in Minneapolis, was ready when a man named Marcus came in asking for some spare change.
"Why don't you have a job, you know nothing is given to me for free right?" she said in a post on her Facebook page.
He had felony convictions, he said, which made it difficult to get a job.
So she gave him one.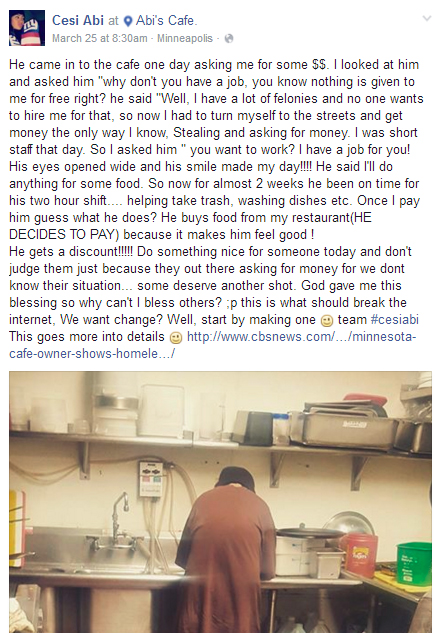 "A lot of people are saying I've been a blessing for him, but at that point I was the one who needed a blessing," Abigail told CBS News.
After putting in two hours of work — the number of hours Abigail could afford to pay him, Marcus was on his way. The next day, he returned.

For the past two weeks he's been on time for his two-hour shift. And today, Abigail plans to make his position permanent.

"Some restaurants wouldn't even let you use their restrooms," she said. "I don't judge someone on how they look — go use it. I do not treat [homeless people] any different."

If restaurants and businesses don't do anything to help the less fortunate, then they become part of the problem, Abigail said.
She said Marcus has been living on the streets since he was 16.
"Just like Marcus, I had my help," she said. "I had plenty of people to help make it to where I am today. They believed I could do it. People need to have someone believe in them."
She's started a fundraising page to raise money for Marcus.