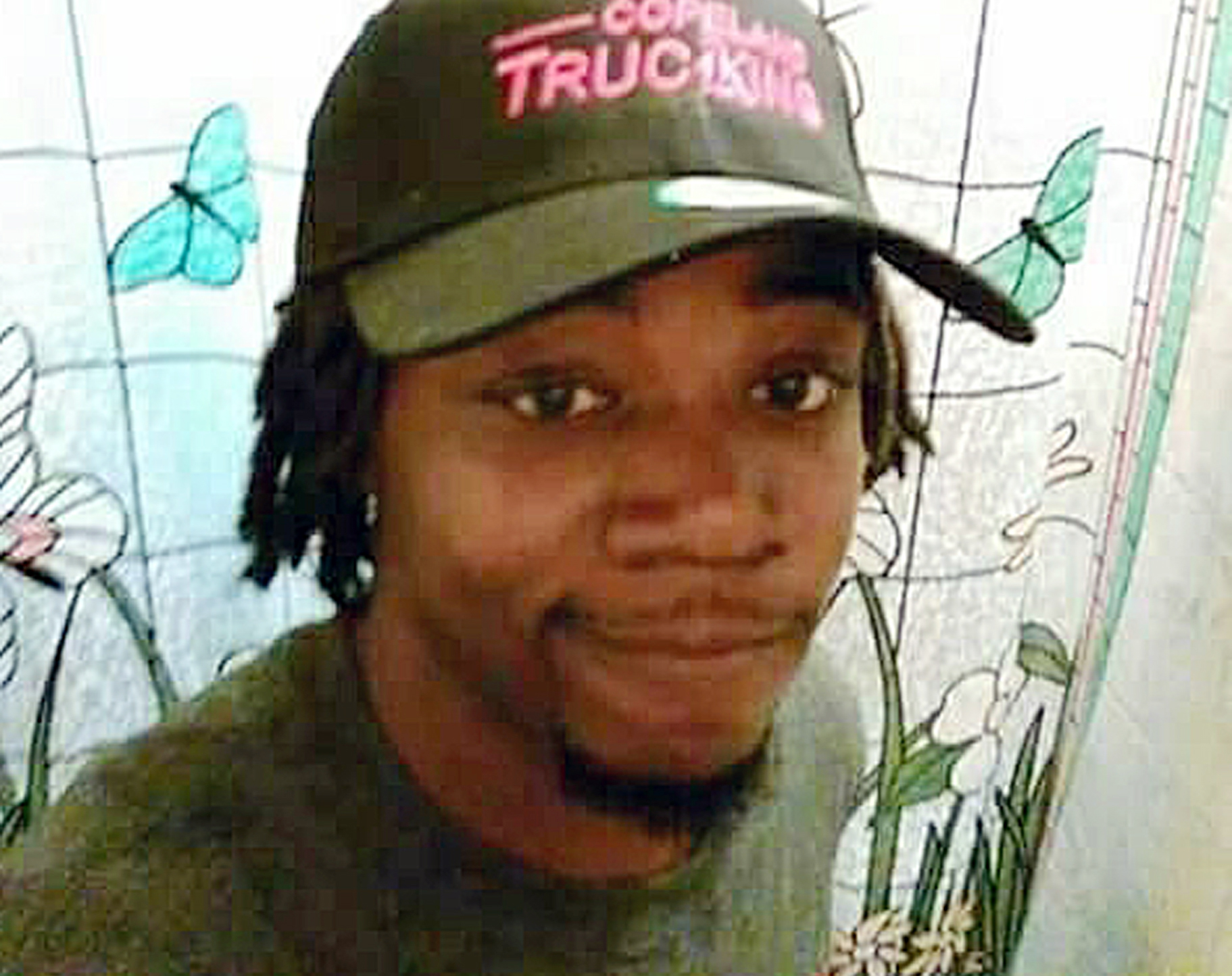 Updated 4:30 p.m. | Posted 11:13 a.m.
Hennepin County Attorney Mike Freeman said Wednesday his office — not a grand jury — will make the final call on whether to press charges against Minneapolis police officers in the Nov. 15 shooting of Jamar Clark.
Freeman stressed that no decision has been made yet on any charges in the shooting, which ignited widespread protests and set north Minneapolis on edge for weeks.
Still, Freeman's move is a victory for protesters who believed a grand jury would be less likely to charge officers in the shooting.
Freeman told reporters that he'd wrestled with the decision but decided that "the accountability and transparency limitations of a grand jury are too high a hurdle to overcome. I will make the factual determination whether there is sufficient evidence to support a criminal charge against police officers in the tragic death of Jamar Clark."
He also said he would no longer send police-involved shooting cases to grand juries, something Hennepin County prosecutors have done for decades.
Clark, 24, was shot by a Minneapolis officer during a confrontation in north Minneapolis after officers reportedly tried to stop him from interfering with a paramedic crew treating his girlfriend outside a late-night birthday party.
• Read: Freeman's statement
• Full coverage: The Jamar Clark shooting, protests
• Conflicting accounts: What happened the night Jamar Clark was shot?
• Timeline: The Jamar Clark shooting, aftermath
• Tell MPR: Did Freeman make the right decision?
Witnesses said the man was handcuffed when he was shot. The head of the Minneapolis police union later said Clark was not handcuffed and was shot while going for an officer's gun.
The conflicting accounts in the shooting's aftermath rocked the Twin Cities for weeks, reopening racial tensions between police and African-Americans.
Protesters have demanded the officers be prosecuted for shooting Clark and that authorities release all video of the incident collected by investigators.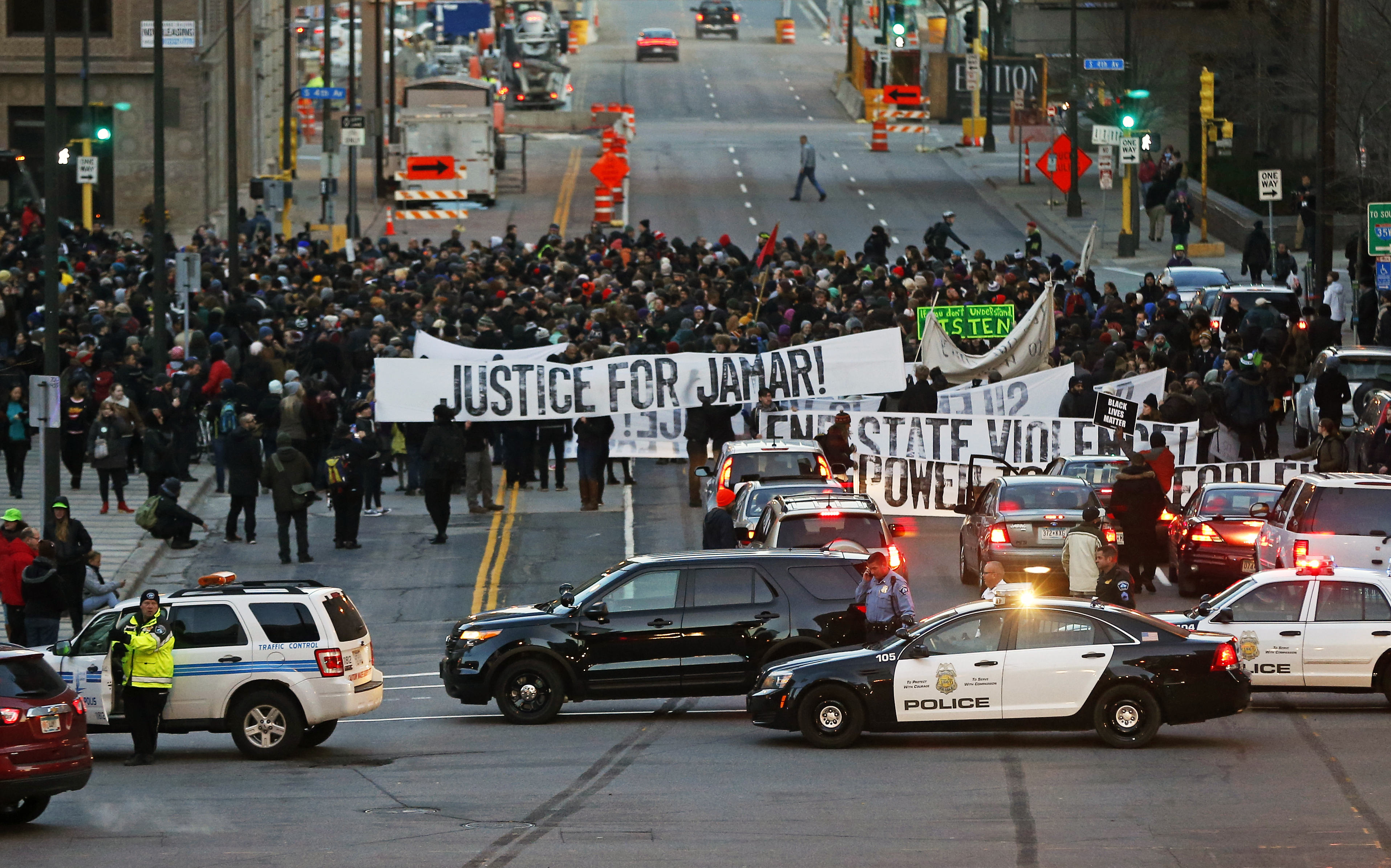 Minneapolis officials asked the Minnesota Bureau of Criminal Apprehension to probe the incident and also called on the United States Justice Department to review the case for any civil rights violations.
The BCA finished its investigation a few weeks ago, although Freeman asked for some additional work.
Freeman could have sent the case to a grand jury for review, which is a typical move in cases involving possible charges against police over use of force. Protesters, however, fought that, believing that a grand jury would be less likely to charge the officers.
Freeman has said a final decision is expected by the end of March on whether to charge the officers in the shooting.
Minnesota law requires grand jury be convened in cases of first-degree pre-meditated homicide and other serious crimes with the potential to bring a life sentence. Otherwise, the choice is left to county attorneys.
While cases that use a grand jury are prosecuted in public, critics say the decision-making by a grand jury to indict or not indict isn't transparent enough.
Freeman said that he began nearly a year and a half ago to examine the use of grand juries in police shootings and that he'd been developing a "hybrid grand jury system" that was more transparent. He said he planned to announce a new system just after last Thanksgiving, but after the Nov. 15 Clark shooting "it seemed inappropriate" to talk about overhauling the system.
The decision not to send the Clark case to a grand jury was a surprise but "exactly the right thing," said Brad Colbert, an adjunct law professor at the Mitchell Hamline School of Law.
Grand juries were meant to be used infrequently but in some places prosecutors have used the process for political cover, tossing hard decisions to a grand jury, Colbert added. Freeman, he said, "is going to be accountable for whether there are charges brought."
Minneapolis Police Chief Janee Harteau noted that "the legal standards and thresholds remain the same, whether this case is looked at by a grand jury or reviewed by the county attorney."
Mica Grimm, an organizer with Black Lives Matter Minneapolis who led public demonstrations in the weeks following the Clark shooting, also praised Freeman's decision.
Grand juries around the country rarely indict officers involved in shootings, she said. Freeman's move, she added, shows he's listening to his constituents.
"It's a great first step to getting justice for Jamar," Grimm told MPR News.
Asked whether she'd feel the same way if Freeman decides not to charge the officers involved, Grimm said, "If that's the case then at least we have the opportunity for transparency … rather than in grand juries where it's locked up and we have no idea."
Black Lives Matter Minneapolis organizer Miski Noor said it will be fairer for Freeman to make the decision about charges in Clark's case.
"We're excited that this is going to be an open process that the public can be a part of, because when we know when the public is involved, there's a higher level of accountability," Noor said.
Freeman's decision not to convene grand juries for any future police shootings is also a victory for civil rights groups and activists who have pressured Freeman on the issue since Clark's death, Noor added.
"It's been a lot of people sitting down with Mike Freeman," she said, "holding actions at his office, repeatedly letting him know that the grand jury system continuously fails people of color and black people."
The decision drew some disapproval.
Minneapolis police union president Lt. Bob Kroll called Freeman's decision a bold move,  but added that he remains confident the facts are on the side of the officers and they'll ultimately be exonerated, as they would have by a grand jury.
Kroll said he believes critics of the process will remain unsatisfied whatever happens.
"Will they say, 'OK, we've gotten what we wanted. We've got an outside investigation. We've got no grand jury. And here's the facts, and the facts are the facts,'" he asked. "Will they come forward and say the officers' actions were lawful and proper and we're sorry for all the disruptions in the time being? I don't think that'll be the case."
State Rep. Tony Cornish, R-Vernon Center, said he thought Freeman's decision a bad idea and would oppose any change in law. A retired cop who chairs the House Public Safety and Crime Prevention Policy and Finance Committee, Cornish said prosecutors could be subject to lobbying or sentiment outside the legal system in police cases.
He said it's fairer to have more people weighing such matters, like a grand jury.
MPR News reporters Tim Nelson and Jon Collins contributed to this report.