RayAnn Hayes, the woman who was somehow injured the night that Jamar Clark was shot to death by Minneapolis police last November, was clearly the most newsworthy participant in today's news conference at which the NAACP called for a special prosecutor to investigate the killing.
"I never said anything about domestic violence. I never said anything about my boyfriend beating me. I don't know where that came from," she's quoted as telling reporters in the MPR story. "All these stories that are going around are not true."
Hayes reiterated many of the points that were contained in last week's exclusive interview with WCCO, but the news conference also left out answers to the same questions that were left out of the TV interview: What accounts for what appear to be variations in her interviews with authorities?
Her account in her interviews matches the one she gave to the Bureau of Criminal Apprehension in February.
But it differs from one she gave the BCA on November 15, according to documents released last week when Hennepin County Attorney Mike Freeman announced he wasn't going to press charges against the police officers in the killing.

As paramedics were putting Hayes in an ambulance, Atty. Freeman said Clark began making a scene, a statement supported by Hayes' November statement.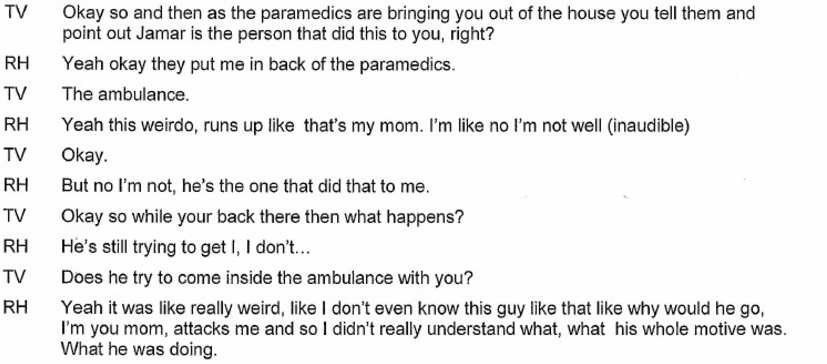 In that interview, she suggests that she didn't know Clark, whom she called "a weirdo."
At today's news conference, Hayes left little doubt that she knew Clark, saying he "was life, he was energy, he was fun." She said Clark was a close friend, MPR reported.
And she said Clark told paramedics he was Hayes' son so that he'd be allowed to ride to the hospital with her.
Asked about the differences today, Hayes denied that her story has changed.
"I don't care what they say," the Star Tribune quotes her as saying. "I'm telling you what I'm saying now."
But there are discrepancies in her story and it does matter, particularly when the most surprising revelation today was that Hayes said she never had a conversation with Freeman.
"I'd never seen Mike Freeman until I saw him on the news the other day," she said (Star Tribune video). "And I still didn't know who he was."
Had Freeman taken the case to trial, Hayes would have been his key witness.
Did Freeman have the same questions about conflicting statements? In making his announcement last week, Freeman said he didn't have enough evidence to take the case to trial. That may or may not be true. A trial would have had some value, if only to allow the direct questioning and cross-examination — out in the open — of everyone involved in the shooting.
After four months, we should at least acknowledge that there are elements of the total story that still don't add up. A trial could've gone a long way to providing the answers an investigation conducted away from the public have thus far failed to provide.
In the vacuum of the investigation, people are left believing whatever version of events they want to believe.
[Update 4:42 p.m.] Atty. Freeman released this statement:
Ms. RayAnn Hayes gave a number of statements about the events surrounding her call to 911 on November 15. In particular, she identified Jamar Clark as her assailant to the paramedics that night. Paramedic Haskell stated, "the female, our patient, says that's the guy that did this. He did this to me," referring to Clark. This information was shared with the officers. We are aware that Ms. Hayes also gave statements later that night she was assaulted by Clark, but months later claimed that she was not assaulted by him.

Officers' actions are based on information they have at the time. Additionally, some civilian witnesses who knew both Ms. Hayes and Clark characterized their relationship as being of a romantic or domestic nature. The investigative materials that we released contain all of the statements and evidence reviewed with respect to this issue and were considered together as a basis for our conclusion.

The prosecutor's job is to answer the narrow question whether the police officers reacted unreasonably and without justification at the moment they used deadly force. If the answer to this question is that the officers acted reasonably in fear of their lives or lives of others, the prosecutor, under Minnesota Statutes and Supreme Court cases, cannot bring the criminal charges against them.

I am convinced that if one reads the entire record available on-line and applies the mandated legal standard they will agree that no charges can be brought against the police officers.