Given advancing age and my inability to get out of the cubicle much anymore, I often wonder if I'll ever meet as unique an individual as Daniel Alvarez again, the Florida man who kayaked from Minnesota's Northwest Angle to the Gulf of Mexico and then, because it seemed like a good idea at the time, kayaked back via a different route.
It's been a few years since we last saw each other at the boat ramp in the shadow of South St. Paul's Wakota Bridge during which time we had a conversation about working up the nerve to try things our head tells us that maybe we shouldn't try. He did, and because of that, I did eventually too.
Years later — this afternoon — a letter and a photograph arrived in the mail.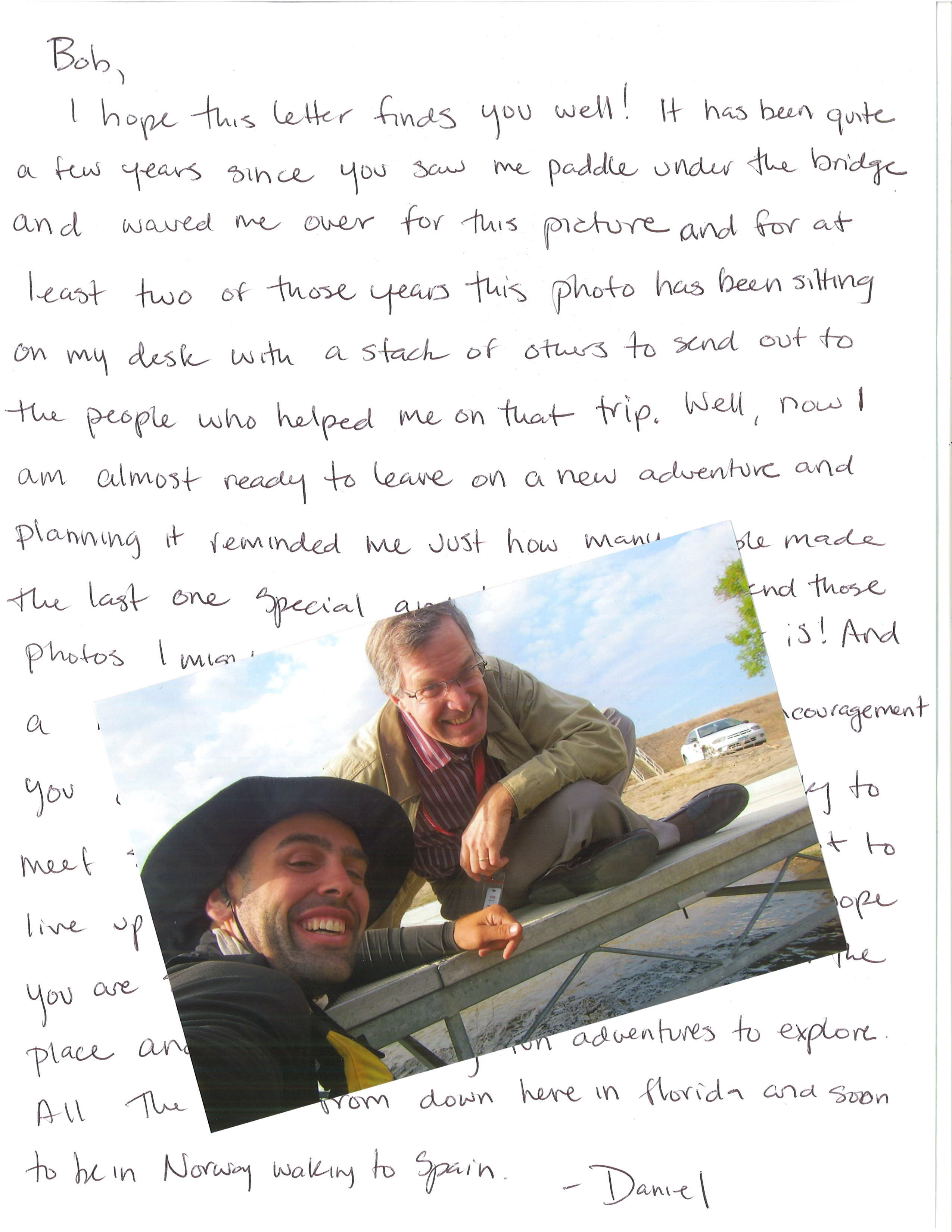 After his kayak trip(s), he hiked the southwest's Grand Enchantment Trail until, he says, he ran out of dirt. That made him a bit sad, he wrote at the time. "There's more dirt out there somewhere," he said.
He's found more dirt, allowing him to do what most of us only dream of: He's living life and pursuing a challenge. Again.
This time, he's walking. From Norway to Spain. Kinnarodden, the northernmost tip of Europe, to Tarifa, the southernmost tip of Europe.
"I was so lucky meet to many great people," he wrote of his Minnesota to the Gulf trip. "Europe has a lot to live up to if it wants to even come close."
You probably know by now that I'm a sucker for people who hit the road. Take James Hainlen, for example, the former Stillwater schools orchestra teacher turned poet.
He's hiking 400 miles of the Appalachian Trail to raise funds for the University of Minnesota to study problems of the inner ear. Like me, Hainlen has Meniere's Disease.
On his first day earlier this month, he said he met two people who quit "unsatisfying jobs" just to hike the Trail.
I like my job fine, for the record. But I've always wanted to hike the AT, I told him — it ran near my home in Massachusetts and I've never set foot on it — and he's promised to tell me all about it when he returns. But I'm under no illusion that I'll actually give it a try.
There is comfort, too, in dependable sameness.