If we didn't know better, we'd think that Cleveland Cavalier J.R. Smith and former Minnesota Timberwolves player Mo Williams were trolling Pioneer Press columnist Joe Soucheray by going shirtless during today's mammoth parade for the NBA champion Cleveland Cavaliers in the city by the lake.
Mo Williams (also shirtless) and @kevinlove with another WWE belt passing through downtown. https://t.co/nCjlTHDU31 pic.twitter.com/9gl7DT7VNt

— 10TV.com (@10TV) June 22, 2016
J.R. Smith going shirtless again. pic.twitter.com/J7QxBSwrJf

— Chris Haynes (@ChrisBHaynes) June 22, 2016
Soucheray, the Pioneer Press columnist stirred up Twitter — to our delight — because this picture is an assault on the writer's senses.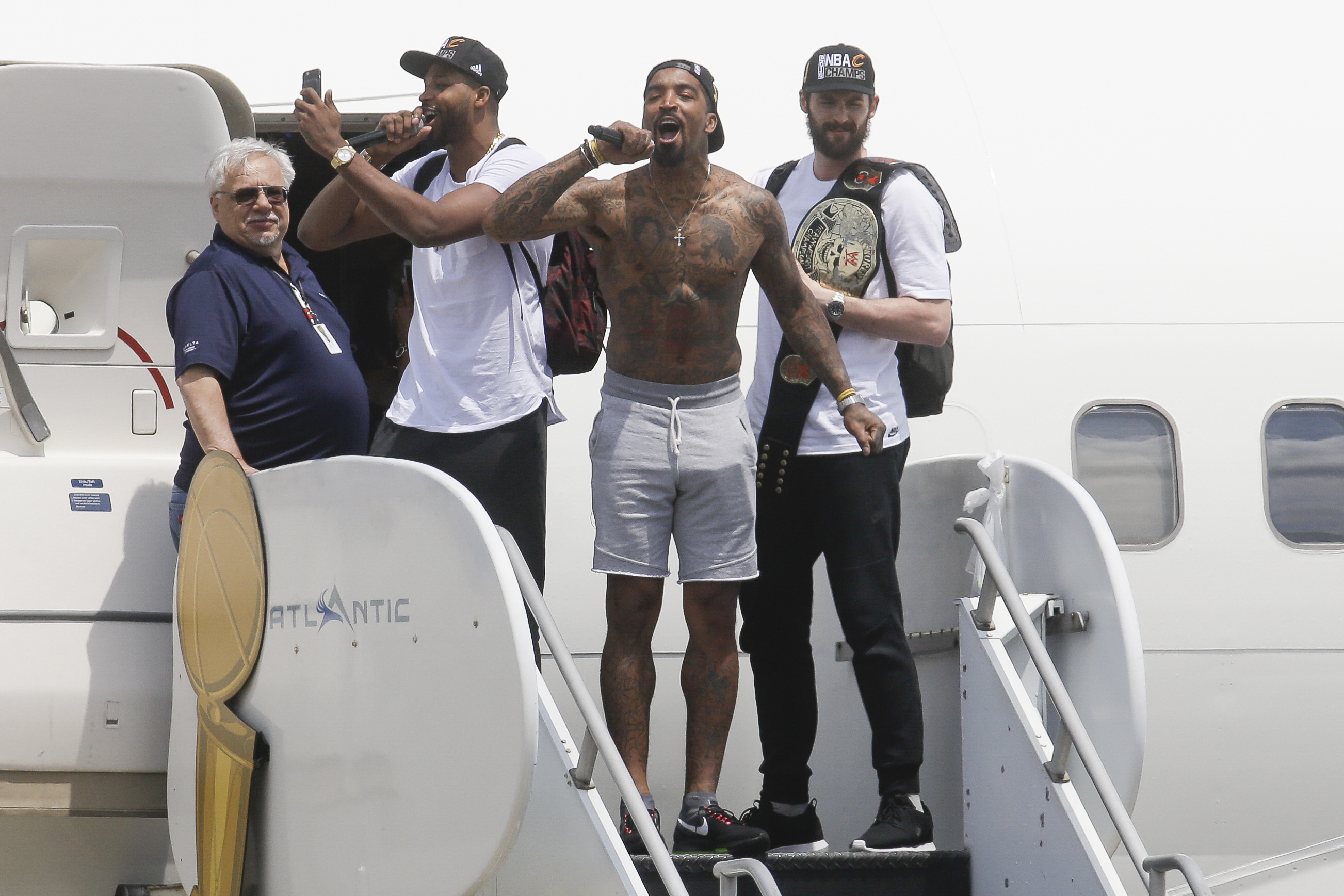 When you see these guys hold a Stanley Cup or a Larry O'Brien Trophy or the Vince Lombardi Trophy or the Commissioner's Trophy in baseball there can be no doubt that you are witnessing relief of the highest order. And down on the field or on the rink or on the court a player might even tear off his jersey and twirl it around his head. But these were the Cleveland Cavaliers returning home with the city's first title of any kind since 1964. They had done all their serious celebrating.

Am I asking too much that when you get off the airplane for the photo opportunity that you at least wear a shirt?
SB Nation, which documented the Cavaliers' side trip to Vegas on the way home to Cleveland, estimated that J.R. Smith lost his shirt sometime around 4 a.m. Like so many things, the shirt stayed in Vegas.
Over to you, Twitter.
Nobody tell Sooch pic.twitter.com/mZ6eQZLjQa

— ⚡️LVC⚡️ (@bornwithatail_) June 22, 2016
Looking forward to Sooch's next show with @1500ESPN_Reusse … pic.twitter.com/JMPSjIdbpd

— David Brauer (@dbrauer) June 22, 2016
Just imagine Joe Soucheray's next column after he sees this. pic.twitter.com/50VBzRVqmb

— Aaron Gleeman (@AaronGleeman) June 22, 2016
i'm good to hit someone with #putashirton, but the dude who wrote this column is a first class herb. https://t.co/kdqgJbBUKd

— El Flaco (@bomani_jones) June 22, 2016
Soucheray. pic.twitter.com/xlcbGZqpol

— Parker Hageman (@ParkerHageman) June 22, 2016
The Cavaliers and their fans don't seem to think the shirtless players diminished their championship.
We found it, @TheRealJRSmith! pic.twitter.com/U2DSWPCIyH

— Cleveland Cavaliers (@cavs) June 22, 2016
Cleveland. pic.twitter.com/qg0KwmKIfg

— Dustin Fox (@DustinFox37) June 22, 2016
Cleveland right now as the city celebrates their NBA title. pic.twitter.com/mIIpmxk2dE

— Breaking News Feed (@pzf) June 22, 2016
As for Smith, he doesn't seem like a bad guy at all.
I love you, JR. pic.twitter.com/ltYqON6R7L

— Dan Favale (@danfavale) June 22, 2016