Hey, thanks a lot, Urban Bean; You're making life miserable for a coffee shop in Florida.
Last week, the independent coffee shop said Donald Trump supporters are no longer welcome on its social media sites or two Minneapolis locations.
In a country that's full of people who aren't real keen on facts and details, that's causing problems for a shop in Florida named…. Urban Bean.
"Keyboard commandos,"as Jacksonville Restaurant Reviews calls them, immediately started assaulting the Florida shop online.
We spoke to Pam Hegel, owner of The Urban Bean Coffeehouse Café here in Orange Park. She let us know that, although some of the negative comments that were initially posted on their Facebook page have since been removed, the angry emails keep rolling in.

Personally answering each email and replying to each comment obviously takes time and energy away from running the business and we can imagine that it has been tough to keep up with all this misdirected backlash. Pam and the rest of the staff at The Urban Bean Coffeehouse Café want to make sure that people know that they are not a franchise and have no affiliation at all with the Minneapolis-based subject of the news story, Urban Bean Coffee.

It seems that they just cannot stress that enough. Despite disclaimers being placed on their website and Facebook page, many confused commenters and emailers have lashed out at Pam when she explains this, telling her that they need to "speak to someone at corporate about it."

Pam wants to clarify that "there is no corporate." The Urban Bean Coffeehouse Café is a local, family-owned business that has worked hard to establish themselves as a popular coffee destination in Orange Park.

Pam went on to say, "We would never refuse service to anyone based on their political views or anything else."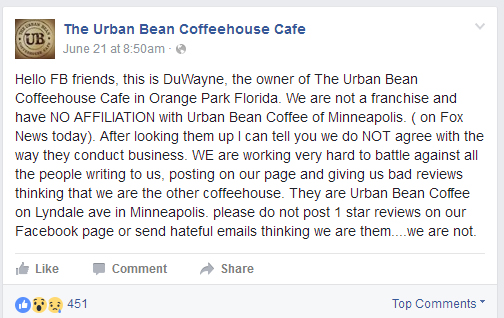 (h/t: Nancy Yang)