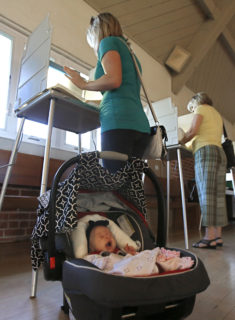 Regardless of whether the Associated Press reported its tally showing that Hillary Clinton had enough delegates to the Democratic National Convention to win the nomination, Hillary Clinton was going to win the nomination with pledged delegates alone in last night's California primary.
It was surprising that a journalistically conservative news organization like the Associated Press would make the announcement it made Monday night, but it counted the noses, had the data, and reported what it knew. The superdelegates in the Clinton camp aren't bound — as normal delegates are — but the reality is at this stage of the game, they weren't going to change their minds. Nonetheless, it felt like it was at least on the edges of "hey, close enough" journalism.
That's really upset fans of Bernie Sanders, and today NPR's ombudsman defended the network's decision to report what the AP was reporting.
"My view is that just because superdelegates could change their minds does not mean that NPR should not report their current stance, assuming NPR trusts that the AP's reporting is solid," Elizabeth Jensen wrote today. "There is no reason to think it is not; as NPR's political editor Domenico Montanaro wrote, 'The AP canvassed more undeclared superdelegates and enough came forward to publicly declare their support for Clinton Monday night ahead of voting Tuesday.' 'Publicly' is an important qualifier here. Kathleen Carroll, the AP's senior vice president and executive editor, explained more here."
Jensen said that NPR is using the phrase "presumptive nominee" because, of course, nothing is really settled yet.
There's another way to look at it. What if it had been Sanders who clinched under the same circumstances as Clinton and NPR did not report it? Or if NPR had knowledge of a story that was unfavorable to Clinton and held off reporting it, again in order not to influence the elections taking place Tuesday? Voters — Sanders' supporters — would have rightly called foul.

News happens when it happens. I think the AP's count was unfortunate timing, coming just ahead of the Tuesday contests, given that a number of analysts, including commentator Cokie Roberts, worried that it would affect turnout. (I have seen no analyses so far that show turnout was affected.) But NPR had no reason to hold off reporting those results, as long as it was clear that the Sanders campaign rejected them and would continue to press its claim. NPR's reports have done that.
It's an arguable point. But some Sanders supporters are taking things a little far.
Amy Chozick, a New York Times reporter who wrote up the AP story calling the race, tweeted that she's been getting threats.
I won't be answering calls from unknown numbers today, after third call from Bernie supporters telling me they'd hunt me down in the streets

— Amy Chozick (@amychozick) June 7, 2016
The system isn't rigged, Jonathan Chait of NY Magazine insists.
Sanders deserves some sympathy. He set out to run a message campaign to spread his ideas. At some point, the race became quasi-competitive, and he discovered that he needed a competitive rationale in order to make the news media cover it, and as he has failed to gain ground, his competitive rationale has gone from strained to ludicrous. Meanwhile, his message has attracted fervent supporters who like him so much they actually believe his crazy process arguments.
Meanwhile, the AP is warning its reporters to be careful, although it told staffers in a memo there is no credible threat to report.
U.S. Staff:

Overnight, AP identified Hillary Clinton as the presumptive Democratic presidential nominee. We broke the news via Twitter and covered it in several stories, which has prompted a backlash by Sanders supporters who are angry with AP's reporting. Statements from U.S. Political Editor David Scott and Executive Editor Kathleen Carroll explaining our call are posted on The Definitive Source blog. This AP story also explains how we count delegates.

Some AP staff have received angry communications in the form of emails, social media messages and phone calls. We have not received any specific security threats. If you need to respond to complaints, feel free to point the public to the statements on our blog as appropriate.

…It is always good to practice situational awareness around AP bureaus and offices.

…We have posted some additional tips and descriptions of best practices for personal safety on the AP Global Security page on InsideAP, including security awareness tips for journalists working in protests and large crowds.

As always, do not hesitate to contact me if you have concerns or questions.

Danny Spriggs
Vice President, Global Security
Related: Why the Associated Press called the race for Hillary Clinton when nobody was looking (Washington Post)