Sister Jean Thuerauf, a Catholic nun who started the Cookie Cart in North Minneapolis, has died, the Star Tribune reports.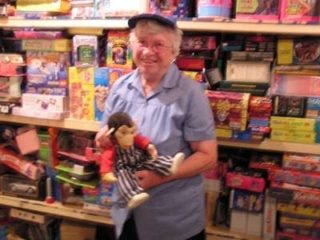 She taught at a parochial school in white and wealthy Edina when she decided the people there needed her less than those in north Minneapolis, she told MPR News' Dan Olson in a 2006 profile.
She started a religious program on Tuesday afternoons for the kids in the neighborhood and baking cookies was one of the activities, Olson wrote.
Thousands of other young people have had their lives influenced by the Cookie Cart and their association with Sister Jean.

But time has not erased the sadness in her voice and eyes as she remembers a young man nearly 20 years ago, one she didn't reach in time.

Then, as now Sister Jean, was living and working on Minneapolis' near north side. Sitting on the front porch of her home just off West Broadway, she remembers a young man who had been in her after school program as a child. He'd joined a gang but wanted out, a decision he knew was life threatening.

He asked sister Jean for sanctuary.

"He had come to my door…and asked me to hide him. And I told him I couldn't. But I told him that he could come and bake cookies again," she recalls. "And then I opened the paper on the day he was supposed to come and his picture was there and he had been killed. So I took that as (my being) almost partly guilty for his death and decided we needed to do something for the teenagers."
That something, Olson said, was cookies. The cookie-baking business, which started with an actual cart selling the cookies on the streets of north Minneapolis, created jobs and provided guidance for hundreds of young people. She also created a housing program for residents.
And she kept a shelf full of toys in her home. When kids stopped by, they were allowed to take one.
"Just because life starts off rough does not mean that that's the end for you or that you don't have a say in what sort of life you're going to live or what sort of adult you are going to become," she told Olson.
She was 85 when she died June 10 of natural causes long after a diagnosis of dementia, the Star Tribune said.