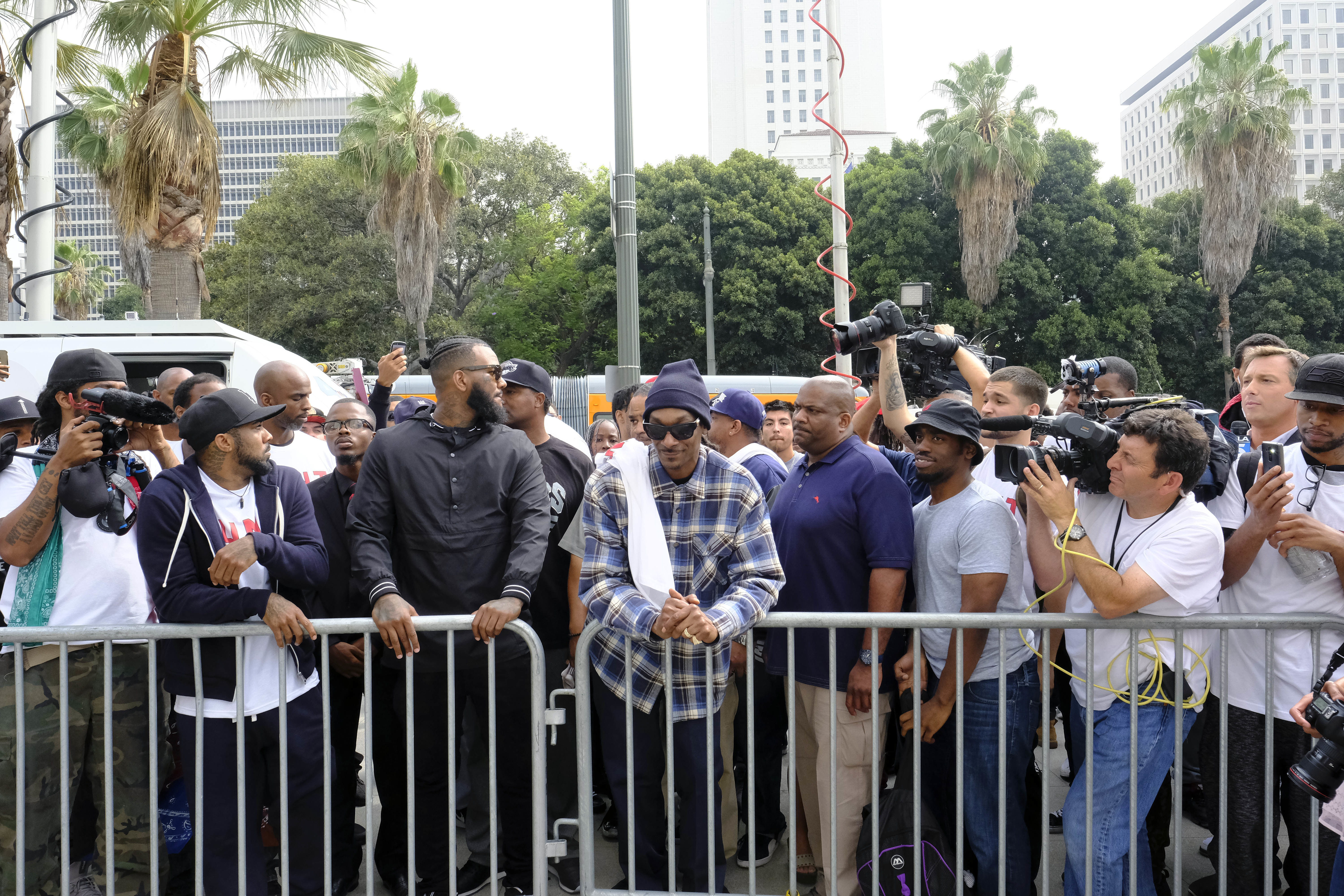 In Los Angeles today, men of color held a march to protest recent police killings and "reintroduce" the community to the police.
Rappers The Game (real name: Jayceon Terrell Taylor), and Snoop Dogg (Cordozar Calvin Broadus, Jr.) and comedian Richie Loco said they wanted to send a message that people of color are unified.
They didn't know at the time, according to the Los Angeles Times, that a police recruit ceremony was going on at the same time.
That coincidence worked out well.
We want peace before it escalates because when that happens ain't nobody safe. #YouAreTheOtherGuyToTheOtherGuy pic.twitter.com/FWykkuqIfX

— Rich (@Richie_l0c0) July 8, 2016
"I would be lying to you if I didn't say I was saddened by what happened in Dallas," The Game said. "I would be lying to you if I didn't say I was angered about what occurred in Minnesota and Louisiana and Fresno. The cops that died in Dallas weren't the cops that shot and killed Philando or Alton. As much as Philando and Alton didn't deserve that, those cops in Dallas didn't deserve that. And the only thing I could think of was to initiate peace on both sides, so that's why I'm here."
A police barricade kept the group from the recruits, but police commanders met with the protesters after the ceremony and the two "sides" held a joint news conference.
"America needs to wake up and realize where this is going," one marcher said. "This thing is escalating, and at the end of the day, it ain't going to be safe for me or safe for you. Everyone is thinking they are safe behind their keyboards and that a hashtag means something. But a hashtag or a keyboard aren't going to save you once it goes that route and gets violent."
Snoop Dogg and The Game host peaceful rally in Los Angeles pic.twitter.com/FOmpITcILr

— Karen Civil (@KarenCivil) July 8, 2016
"This is how you make moves," Snoop said.