The driver of a bus that got caught halfway across a highway in Cambridge, Minn., has resigned.
KSTP reports the unnamed driver resigned after this video, taken by kids on the bus, was posted by a parent on Facebook.
(Caution: Obscenities).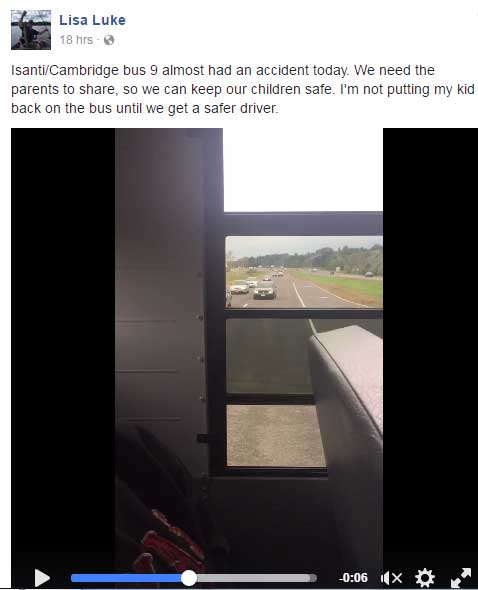 The district promised an investigation but KSTP says the driver resigned after the video was released.
Jeremy Runyon posted on the school system's Facebook page that he was driving the white pickup shown at the beginning of the video.
I feel the need to say something here. In the first frames of the video you can see a white pickup crossing the northbound lanes on the south side of the bus.

I WAS DRIVING THAT PICKUP AND WITNESSED THIS ENTIRE SITUATION. as I came south on 65 the bus crossed the north bound lanes and pulled into the center median on the north side of a vehicle that was already waiting to cross SB or turn SB, the bus then blocked the other drivers view of SB traffic and neither could move. I turned left into the center median with 2 other vehicles waiting to cross NB.

I couldn't see that there were already 2 waiting because the bus was blocking my line of sight.

That bus had no business being stopped in that median, and the fact that he pulled into it while another vehicle was already there is down right stupid. P&M sends semis out of that intersection many times a day, you don't see them blocking NB traffic! I get busses are big, I own and operate a trucking company, we know what big is!

This driver was careless and wreckless with students on board. I had my window partially open and as I crossed I heard those kids screaming! At the end of the video you can see the kids start to scamper to the front of the bus, they were scared for their lives!