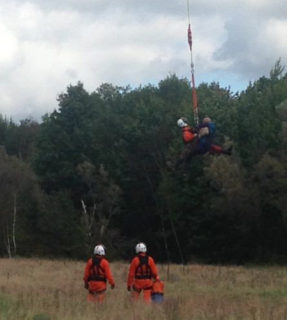 A good dog is a pretty important hunting companion during the current birding season, but so is a good drone.
On its Facebook page this afternoon, the Minnesota Department of Natural Resources reports on the rescue of a hunter who got lost while birding and ended up stuck in a swamp full of cattails, making it hard to find him at the Carlos Avery Wildlife Management Area.
Thus, the drone, the DNR says.
A small game hunter who was lost and stuck in a swamp in waist deep water Saturday in Carlos Avery Wildlife Management Area was rescued and brought to safety thanks to a drone, a helicopter and the on the ground work of DNR conservation officers Tony Salzer and Brittany Friday.

The rescue effort included the Anoka County Sheriff's Office, Minnesota State Patrol, Saint Paul Fire Department and Forest Lake Fire & Rescue.

Tall cattails made the hunter particularly hard to find. Once located, the conservation officers pulled the exhausted man out of the swamp. The hunter was secured in a vest at the end of a rescue line and was brought to safety by helicopter.

In this case, the man was able to use his cell phone to call 911 for help but the weekend rescue illustrates the importance of a safety plan. Hunters, before going afield, always let someone know where you are going and when you plan to return.
(h/t: Julia Schrenkler)