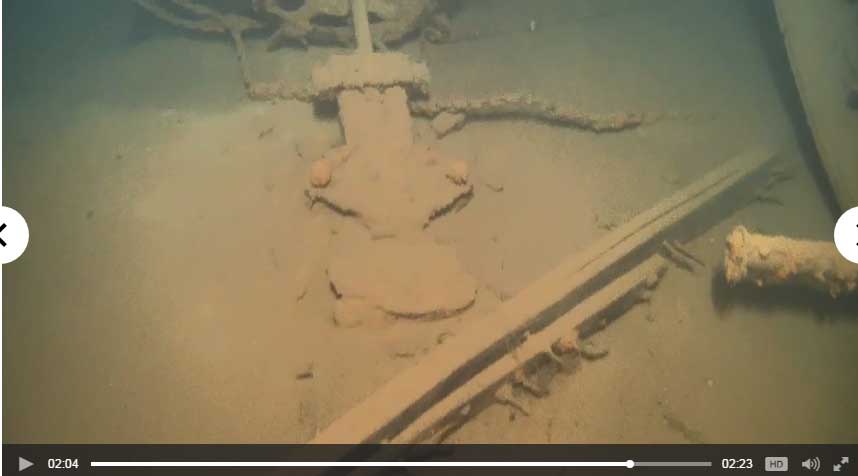 Watching the new video of an old shipwreck in Lake Superior is like looking back in time. About 119 years back.
The Duluth News Tribune reports the wreckage of the Antelope, a schooner that went down with its load of coal in 1897, has been found and it's "spectacularly intact."
"It's the most spectacularly intact sail-rigged ship in Lake Superior — two of the three masts are standing with the full rigging," said Jerry Eliason of Scanlon, who along with Ken Merryman of the Twin Cities and Kraig Smith of Rice Lake, Wis., lowered a camera to explore the wreck last week Wednesday. "It's got the giant woodstock anchors; the bow cabin is intact."

They had first spotted the wreck on sonar less than a week earlier. The Antelope was a ship the group had been seeking for years, making periodic trips to search the vicinity where the vessel was last reported.
More fascinating, still, is that the Duluth News Tribune covered the original sinking.
When they reached Duluth, the News Tribune reported, the officers of both ships declined to discuss the sinking — a 19th-century "no comment."

"Vesselmen that knew the ancient schooner Antelope account for the foundering on the theory that she was in too fast company while in tow of the H.W. Sibley," the News Tribune reported. "The supposition is that the old schooner could not stand the punishment of the choppy sea, which prevailed yesterday on Lake Superior, while whisked along by the powerful steamer."
The shipwreck hunters say they've learned that the condition of shipwrecks on the bottom of the lake depends largely on the load they were carrying when they went down.