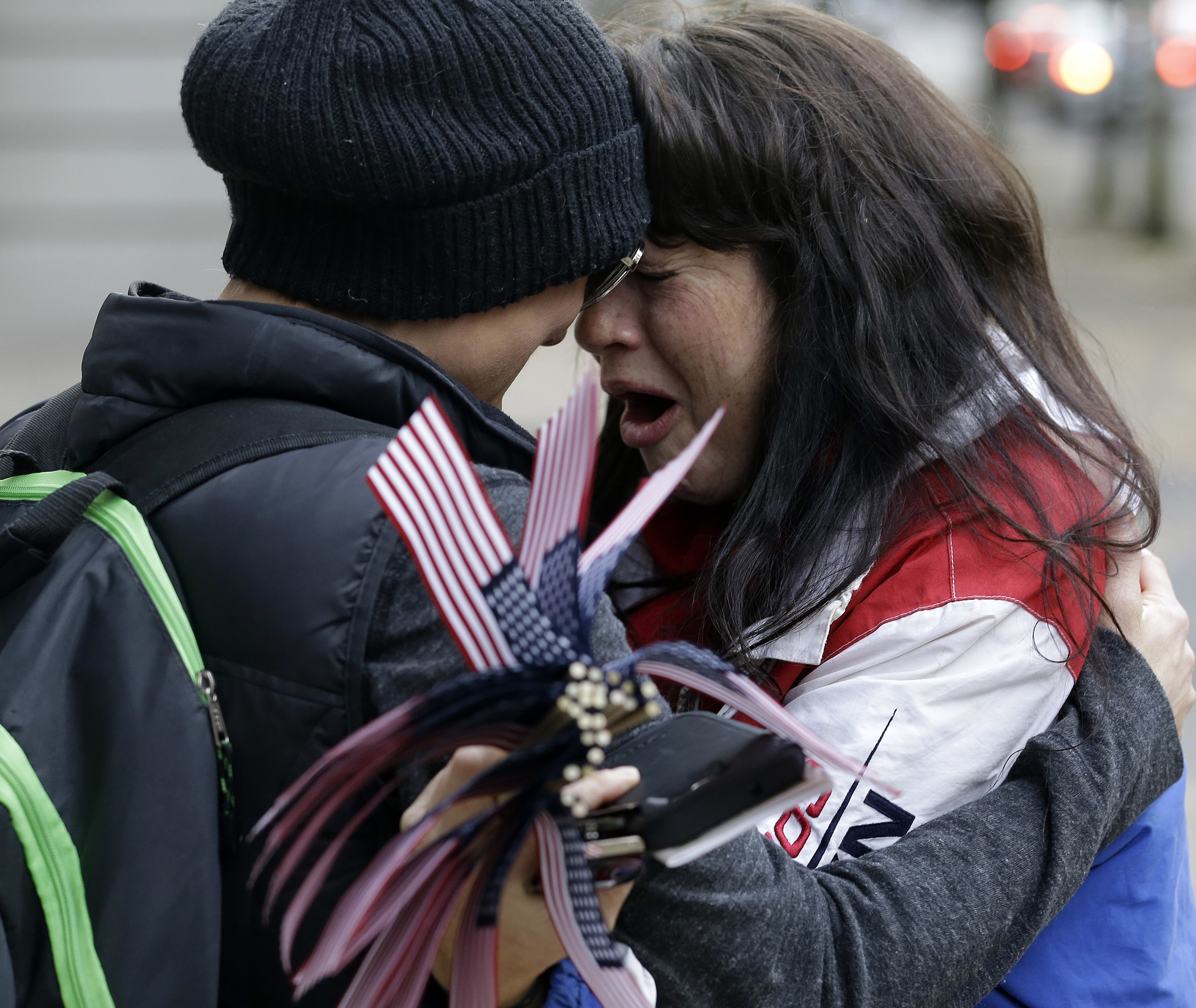 Perhaps no jury verdict since O.J. Simpson's has sparked such a discussion on race and the judicial system as yesterday's surprise "not guilty" verdict against the armed protesters — all white — who took over the Malheur National Wildlife Refuge, protesting what they said was government overeach.
The verdict came the same day authorities broke up a protest in North Dakota by Native Americans who don't want an oil pipeline across what they say is sacred ground.
The jury in Oregon was all white.
"They're basically giving a free to pass to other militia groups that want to organize in Oregon and other rural parts of the United States," Carlos Covarrubias, who leads a monthly discussion on race in the Portland area, told the Oregon Live. "The ramifications could be dangerous."
"Maybe this is a lesson that that's not the way to engage with these people, who want nothing more than just to be heard, just to have a forum to talk about the injustices like the case of the Hammonds and the treatment of ranchers," Lisa Ludwig, standby counsel for Ryan Bundy, one of the leaders of the militia, told the Oregonian newspaper.
Lisa Maxfield, who represented Wampler, came out of the courthouse, holding up her fists. She said she has never seen "anything like this happen," where multiple defendants in a federal trial were all acquitted. It was one of the most significant cases in her career, she said.

"It's a tremendous victory for rural America," Wampler said outside the courthouse as supporter and fellow refuge occupier Brand Nu Thornton blew his shofar and another man rode his horse back and forth, hoisting an American flag.

But others, like Jennifer Rokala, executive director of the Center for Western Priorities, worried the verdicts would spur other similar armed standoffs against the government's control of public lands that involve the militia.

"We are deeply disappointed in today's verdict, which puts our park rangers and scientists at further risk just for doing their jobs. The outcome of today's trial will undoubtedly embolden extremist groups," Rokala said. " It's imperative that local, state, and federal law enforcement ensure the safety of our land managers."
These folks, pictured here possessing firearms in a federal facility, were just acquitted of possessing firearms in a federal facility. pic.twitter.com/V7Hf6XxTDA

— Gordie Loewen (@gordieloewen) October 28, 2016
Under federal law, the jury would have had to find the defendants guilty of conspiracy in order to find them guilty of possessing weapons on federal land.
"It's white privilege in action," Vox's German Lopez argues.
It is impossible to ignore race here. This was a group of armed white people, mostly men, taking over a facility. Just imagine: What would happen if a group of armed black men, protesting police brutality, tried to take over a police facility and hold it hostage for more than a month? Would they even come out alive and get to trial? Would a jury find them and their cause relatable, making it easier to send them back home with no prison time?

One doesn't have to do much imagining here, either. The social science is pretty clear: People are much more likely to look at black people and see criminals and wrongdoers. They don't get the privilege of innocence in the same way that white people — including these militants in Oregon — do.
One of those found not guilty promised more protests.
"Wild lands belong to all of us, not the people who hold them at gunpoint," said National Audubon Society President and CEO David Yarnold. "This outrageous verdict undermines the rule of law and puts people, birds and other wildlife in danger."