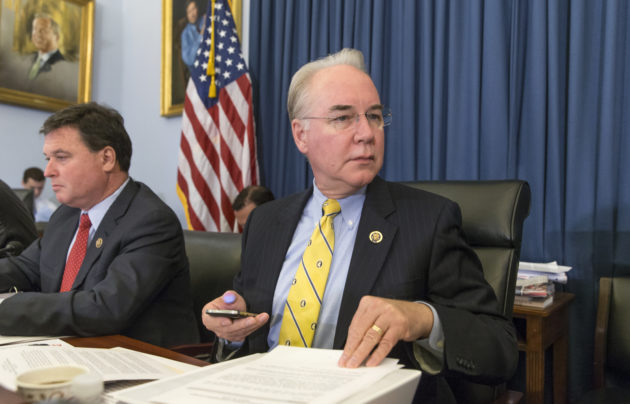 Donald Trump tweeted something ridiculous overnight, which is a pretty good sign that there's a real story that isn't getting as much media attention.
The president-elect tweeted about burning the American flag, and not about the possibility of eliminating health care coverage for many Americans.
Trump is appointing Rep. Tom Price, R-Ga., as the new secretary of health and human services, the perfect person, Vox says, to roll back health care coverage, an issue many Democrats were too afraid to defend in their recent election.
"Chairman Price, a renowned physician, has earned a reputation for being a tireless problem solver and the go-to expert on healthcare policy, making him the ideal choice to serve in this capacity," Trump said in a statement today. "He is exceptionally qualified to shepherd our commitment to repeal and replace Obamacare and bring affordable and accessible healthcare to every American. I am proud to nominate him as Secretary of Health and Human Services."
Price is one of the few Republicans in Congress who actually has proposed health care legislation in the post-Obamacare world.
Among his Empowering Patients First Act tenets is higher insurance prices for some sick people and the full repeal of the Medicaid expansion.
It's geared to be more attractive to young people.
Empowering Patients makes the individual market more advantageous for healthier people. It eliminates the essential health benefits package, which mandated that all insurers cover a set of 10 different types of care including maternity services and pediatric care.

Empowering Patients would allow insurers to cut whatever benefits they no longer want to cover — they could stop covering maternity benefits, for example, to make their plans less attractive to women who plan to become pregnant. This would likely benefit healthy people, who generally want less robust coverage at a cheaper price.

But it'll send the cost of more comprehensive plans — the plans sicker people need — skyrocketing. And it could leave someone who wants, say, health insurance to cover her maternity costs completely out of luck.

There are other ways Empowering Patients makes insurance better for young people too: by letting insurance plans charge them lower rates.

It does this by allowing insurers to charge their oldest enrollees as much as they want. Right now, insurers can only charge the oldest enrollees three times as much as the youngest — that constrains prices for patients in their 50s and 60s.
The New York Times says Price's knowledge of Medicare — Price is a physician — could serve him well in reshaping health care in the United States.
The secretary of health and human services sets Medicare payment policies for doctors, updates the physician fee schedule each year and issues rules that can have a huge influence on the practice of medicine.

The government is carrying out a law that changes how doctors are paid under Medicare, and Medicare often serves as a model for private insurers.

On the other hand, as secretary, Mr. Price would need a broader perspective. He would have to consider not only the interests of doctors, but also the needs of Medicare beneficiaries, Medicaid patients and taxpayers who finance those programs.
This is the sort of thing that would have made a great debate in the last election had the Fourth Estate been at all interested in something other than what outrageous thing Trump said or tweeted.
In its editorial today, the Star Tribune appeared to urge journalists not to take the Twitter bait by taking the Twitter bait.
It should be clear by now that Trump's outbursts will require an adjustment by the news media, which need to bring a double-helping of skepticism to coverage of a fact-averse president-elect.

Too many initially posted headlines that simply repeated — without qualification — Trump's baseless illegal voting assertion did his work for him.

Those headlines rocket around the internet, further solidifying the notion in the minds of those who won't go deeper, that Trump is some kind of plain-spoken truth teller, instead of a Twitter troll who needs to get off social media and get back to work.
The future of health care, and almost every other major issue facing the nation, is going to be far too complex to debate on Twitter.
Related: How women's health insurance costs could rise under TrumpCare (PBS NewsHour)