Nothing seems to be working when it comes to getting people to stop texting and driving so there's at least a minimal level of understanding for the authorities in the Broadhead, Wis., school district — southwest of Milwaukee — who told students at the beginning of the school day last week that four of their friends were dead.
"They went into detail about how one of them was rushed to the hospital," Sam Bolen, a junior, told The Washington Post. "I was pretty upset. It is a really small school, like, most of the people really knew who they were. You kind of know who everybody is in a smaller school."
Many students started crying; others texted their parents. And then word got out around the town of about 3,000.
Ten minutes after the announcement, the school said it was only a drill to try to bring awareness to the kids about texting and driving.
"There's been a parent that said, 'If you have a child who's offended by this, you are raising a weak, drama-filled child,'" Bolen said. "It is kind of uncomfortable when you know that teachers are even talking bad about students who are upset."
On the Facebook page of a local TV station that first aired the story, one student took her colleagues to task.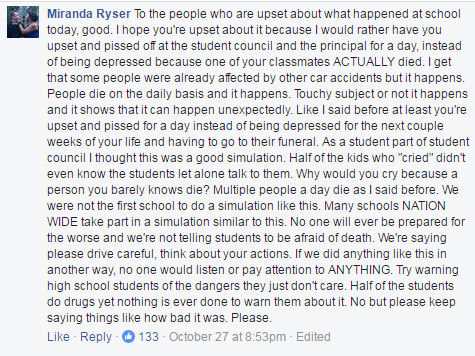 The school superintendent says there may be ways to get the message across better if they ever try it again.