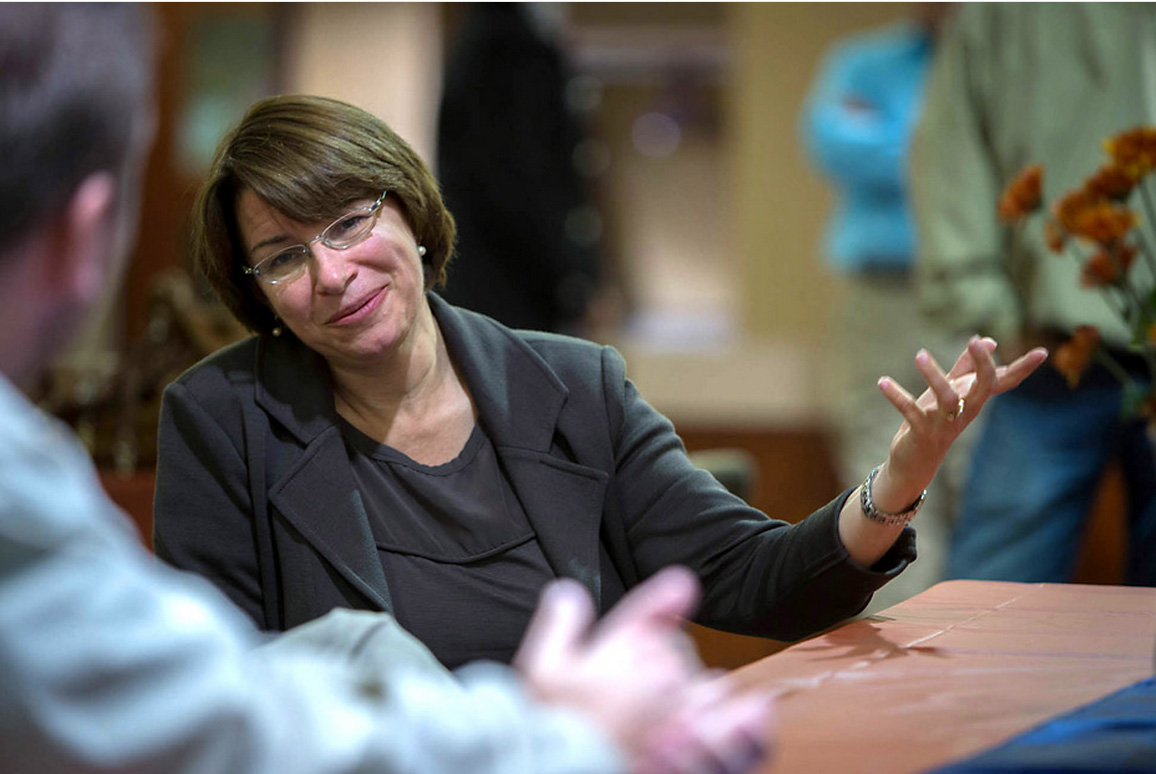 The pundits who got things so wrong in the election are still working today and we're still paying attention to what they're saying. Nothing else to do until January, we suppose.
They've switched from writing about the death of the Republican Party to writing about the death of the Democratic Party.
But the Washington Post's Chris Cillizza notes today that if there's still a light flickering in the party, Minnesota U.S. Sen. Amy Klobuchar is one of the few holding a candle.
We've written over the years about Klobuchar's legendary ability to get her name in these sorts of articles, but this time there's a pathway to her aspirations: she's one of the few Democrats still standing.
Cillizza, for the record, has probably done more to boost Klobuchar's national profile than anyone other than Klobuchar herself, writing frequently about her role on a more national scale, as he did in April 2015.
She is decidedly ambitious and it's not all that hard to imagine her, at some point down the line — 2020 or 2024 –inserting herself into the presidential/vice presidential conversation. (Klobuchar could also be doing a bit of spadework in the event Clinton wants to go with an all-female ticket in 2016.)

You can easily imagine this line coming from Klobuchar at some event in Cedar Rapids in four or five years time: "I am not some new arrival here in Iowa. I have been coming to this state for the better part of the last decade." [Cue applause]
Given a prime-time role at the Democratic National Convention in Philadelphia this summer, Cillizza panned her performance. It was flat. Midwestern flat.
But more exciting politicians have (a) gotten too old to be president and (b) gotten beaten in their races and so when Cillizza looked at the Democrats' thin bench to challenge President Trump in 2020, look whose name was there:
As it became increasingly clear Clinton would lose on Tuesday night, names began to bubble up as potential 2020 Democratic candidates. Michelle Obama, who has never held or run for office, was the name I heard most.

Kamala Harris, the Californian who won a Senate seat last night(!), was also mentioned. So, too, was Cory Booker, who's been in the Senate for just three years. The other names — Kirsten Gillibrand of New York, Amy Klobuchar of Minnesota — are intriguing candidates, but they almost entirely unknown nationally, even among Democrats.
Sure, there's a bit of a left-handed compliment there — the bench is so thin that even Klobuchar has a legitimate shot at the party's nomination. Stranger things have happened, though, and that's why there's four years between elections.
Related: Stassen-Berger: So much we don't know about politics anymore (Pioneer Press)