A couple of local Twitter users probably didn't think through a really bad idea that risked harm to the Twin Cities homeless population and destroyed their own credibility in the process.
Jake Nyberg, known Twitter commodity, writer, and musician from Minneapolis, apparently wanted to embarrass the Minnesota Vikings and force the team to deny they would help homeless people. So he started a rumor on Twitter that they were providing shelter in the new stadium, hoping the fake news would spread and force the team to appear to turn its backs on homeless people.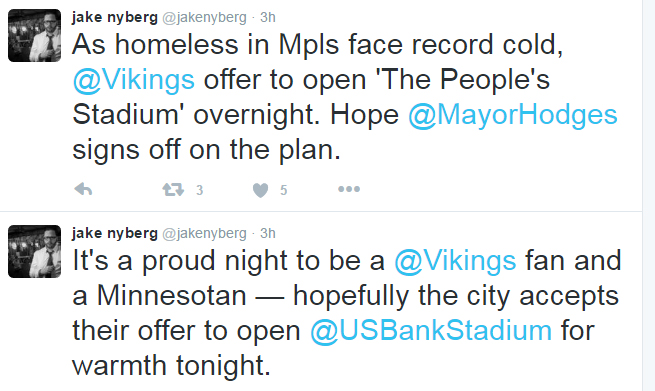 Nyberg, of course, knew it was phony. And so, apparently, did a friend, David Dellanave who gave the rumor another shove.

Dellanave's tweet was retweeted 7,000 times on the social network, which is often used by legitimate organizations for the homeless and poor to provide information on shelter and supplies.
Not surprisingly, the rumor picked up more steam. Some media Twitter accounts retweeted it without verifying its authenticity.
Nyberg later noted it was only a rumor, but that was a disingenuous attempt at later deniability. He knew that it wasn't a rumor. He knew that it was lie, which he had invented.
YahooSports ran the story via its website.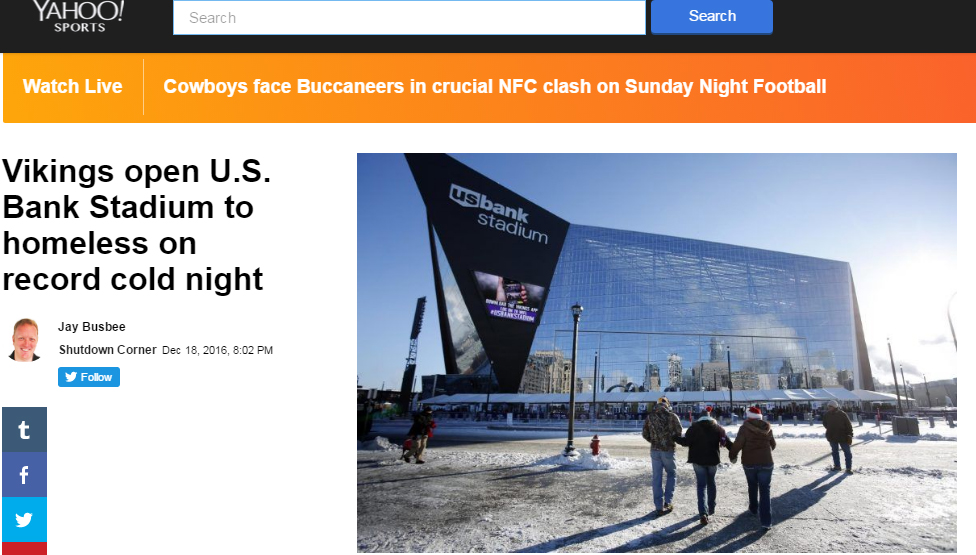 And CBS, too, began running the story, both news/sports organizations embedding tweets from the two men's accounts for attribution.

Queried by reporters, the Minnesota Sports Facilities Authority confirmed to several media members that the tweets were a hoax.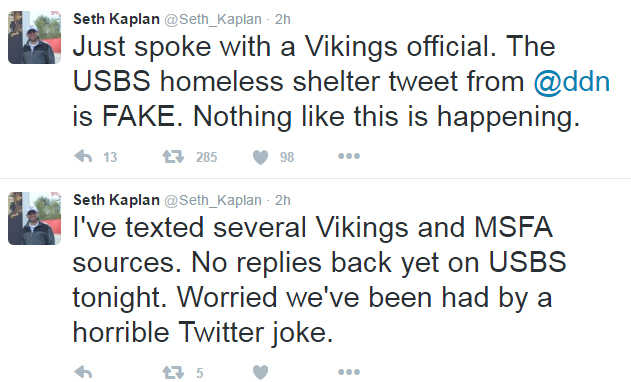 It's unknown, however, whether it ever reached homeless people who were looking for a place to stay warm on one of the coldest nights in two decades. (Update: KARE 11's Jana Shortal reports she was on a train on which people were trying to stay warm. They got off at U.S. Bank Stadium)
[Update: MSFA says no one showed up at the stadium looking for shelter.]
The fact that it might have didn't seem to bother the pair, if it occurred to them at all.
Twitter turned on the two, who multiplied their original sin by committing another one any novice on Twitter would know: When you're caught, just say you're sorry.
Instead, they grew combative against the universal online condemnation.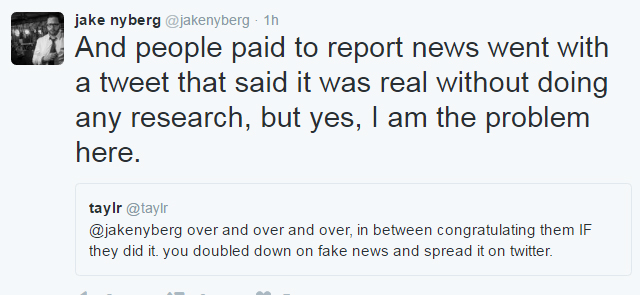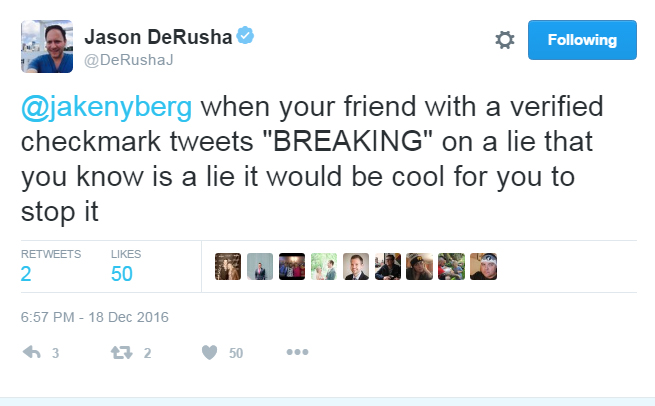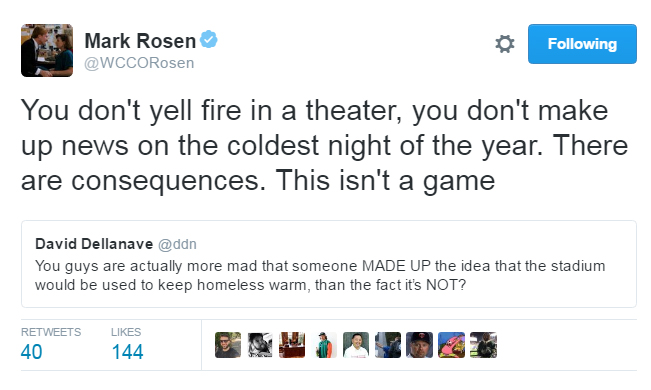 By later Sunday night, Nyberg had deleted all of his tweets and deactivated his account, the damage having already been done.
[Update] From Nyberg: "The intent of my tweets yesterday was never to make a larger point about fake news. In hindsight, I chose a stupid and shortsighted way to bring attention to what I believe is a worthwhile question — whether it might make sense for a large, warm, publicly-funded building to be opened to those experiencing homelessness on a very cold night. This obviously backfired, I regret it and sincerely apologize."