We're getting into the slow news cycle period of the year, which means news organizations are going to trot out their top-story, and person-of-the-year lists shortly.
Later this month, I'll be filling in for Kerri Miller and one of the shows I want to do is the top story of the year, but not the traditional way. I want to hear yours. People are born, people die, people accomplish great things and have great moments and none of them get any attention because they happened to us singularly and, the theory goes, who are you, anyway?
That's too bad because your life is a reminder that the daily news isn't really us, or at least the sum total of us.
I've noticed since Election Day that these sorts of stories — the reminders that we're better people than the daily news says we are — have nearly completely dried up. That's a shame. We've never needed them more.
Anyway, we don't have any great system for determining the NewsCut Minnesotan of the Year. We've only had one — in 2007.
But if I had to select one this year — I don't — Lee Sjolander, the police chief in Kenyon, gets it hands down.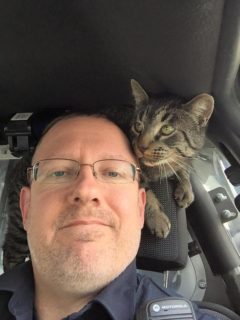 In March, he shared his struggle with PTSD, which he discussed on his Facebook page. As I wrote then, perhaps nobody has used the medium (Facebook) as well since Win Borden was alive.
Today's entry follows up on that.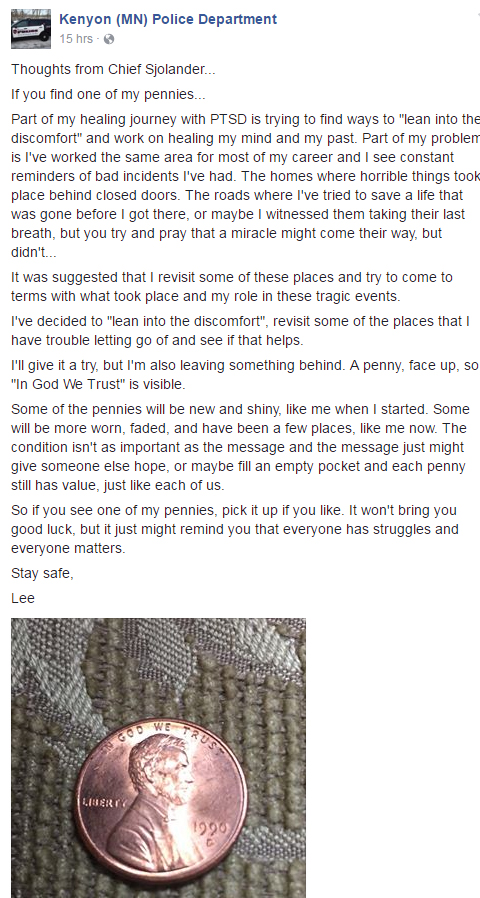 Sjolander spreads humanity, and gets comparatively little attention for it, even though it earned him an invitation to the White House in the summer.
He didn't shoot anybody. He didn't call anybody names. He united rather than divided his constituency. He fixed bad haircuts. He reminded us to pay attention to the good people.
As near as we can tell, the state would be better of if more people were like him.