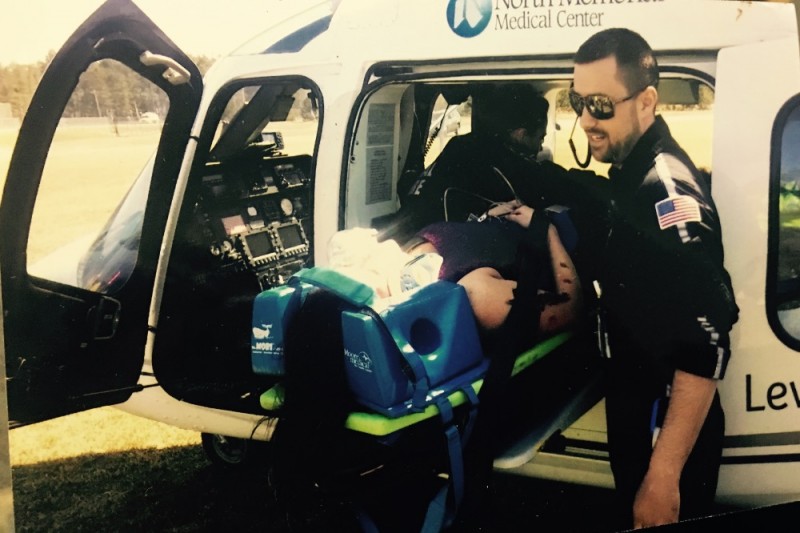 There are angels who walk among us and if you want to glimpse a few, look up sometime on the worst of nights when you hear a helicopter. Nobody would fly in such conditions unless there was someone who needed help.
They're the crew of medical evacuation helicopters, and they include people like Miles Weske of Nisswa, Minn., who is going back to work on Sunday, an impressive fact considering that he was almost killed in September when bad weather forced the North Memorial Air Ambulance to the ground north of the Alexandria, Minn., airport at 2 a.m., the Alexandria Echo Press reports today.
Weske, a paramedic who was sitting in the back of the helicopter, suffered the most severe injuries — a broken back, damaged liver, busted ribs, legs and collapsed lungs.
He was released from the hospital in November and will marry his fiancée, a flight nurse, late next month.
"I have realized the impact that EMS workers and hospital personnel have on the medical care of patients," Weske said. "Being on this side of things definitely makes me take time to look at everyone who is involved in the collaborative effort of patient care. I wouldn't be here without the help of each person that was present that night."

Additionally, Weske says he now has an even deeper admiration for his fiancee, who is a flight nurse.

"It made me realize how lucky I am to have an advocate like Brook by my side," he said. "She's literally the smartest nurse I know, and on top of it she was there to help manage my care and keep everyone up-to-date on my condition."
He won't be flying for awhile yet, but says he wants to get back in the helicopter as soon as he can.
A GoFundMe page raised $30,000 to help with his expenses, and a teacher in the Nisswa school district chipped in by allowing students to duct tape her to a wall for $1 apiece.