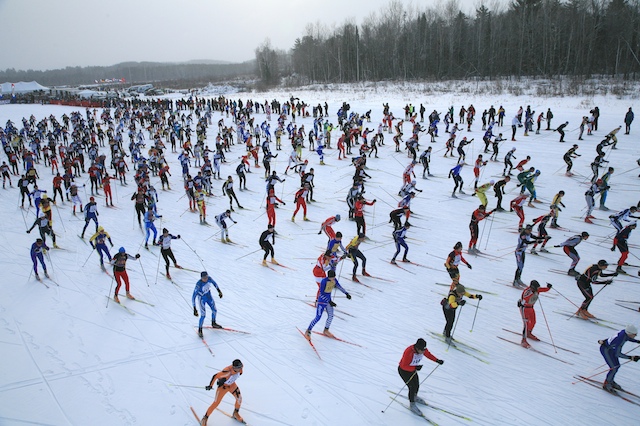 If ever there was an indicator that the Upper Midwest has lost its weather mojo, it's this: the American Birkebeiner — the iconic northern Wisconsin cross country ski race — is likely to be a foot race this year.
All of the events scheduled for Friday have been moved to Saturday, race officials announced on the race website yesterday.
They're hoping a late-week storm salvages what's left of the region's weather reputation, but they offer three scenarios if we remain a slightly-chilled Des Moines.
Scenario #1 – With some snow remaining on the trails from the American Birkebeiner Trailhead to the OO Trailhead (at Highway OO), Birkie staff are monitoring trail conditions. With hopes of measurable snow on Friday, there is a very slim chance that a one-way, timed race could be held (American Birkebeiner, Kortelopet and Prince Haakon races).

Scenario #2 – If there is enough snow and conditions are such that 10,000 plus participants can safely ski, however unsafe for a competitive race, there is a possibility of an untimed, open-track, looped-event on the Birkie Trail (north of OO) for the American Birkebeiner, Kortelopet and Prince Haakon events.

Scenario #3 – If snow is unavailable, 2017 will be a Birkie, Korte & Prince Haakon like none other. Participants will be part of a first-ever winter Birkie run and street party celebration in downtown Hayward. Live music, Birkie Brew-Ski, food vendors, and a festival atmosphere!
Opening ceremonies for the events, held since 1973, have already been canceled.
Temperatures in Hayward, Wis., should approach 50 again today. Last year's race was also beset by temperatures in the 40s.