A Minneapolis woman has found that doing one's civic duty can be pretty rough on nursing mothers.
In a Facebook post Amanda Chandler said that she's on jury duty in Hennepin County and when she had to pump breast milk, court officers sent her off to the bathroom.
Bathrooms are disgusting places to prepare food.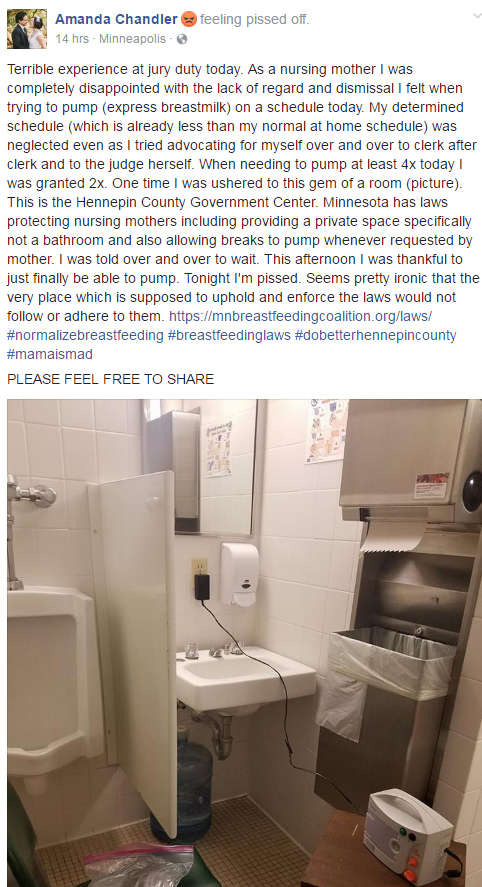 The Affordable Care Act, as well as Minnesota law, makes the instruction she received from a court questionable, at least if the court is considered an employer of someone on jury duty.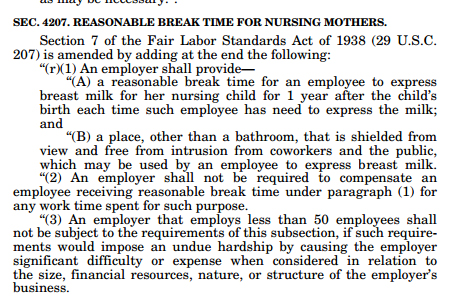 Minnesota law goes a little further. An "employer" includes the state and other government entities. And the rights bestowed to nursing mothers isn't dependent on the child being 1 year old or less.

The law aside, however, the societal question remains: Why do nursing mothers have to fight so hard?
The Hennepin County Facebook page apologized for sending a nursing mother to a bathroom and said the Government Center has special rooms for nursing mothers and it doesn't know why court officials didn't allow her to use one.
(h/t: Annie Anderson)
[Update 5:08 p.m.]
Statement from Nancy Peters, spokesperson for the 4th Judicial District:
"District Court has a quiet room on the 24th floor near our jury assembly room that was designed with nursing mothers in mind, which features a locking door for privacy, a sink and a chair. Through a miscommunication, which we regret, a jury panelist was not originally advised of the availability of this room. District Court strives to respect the physical and medical needs of all its jurors. "