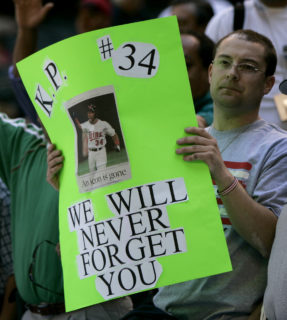 Until the Twinkie Town blog brought it up, I hadn't noticed that there are no Kirby Puckett jerseys in the Minnesota Twins pro shop.
You can get a Kent Hrbek jersey for $280, but the closest thing to a Puckett jersey is a nameless #34 jersey.
Why no Puckett?
According to a team spokesman, someone owns the rights to the "likeness" of Kirby Puckett and apparently has cut a deal with the Mitchell and Ness Company, an online store specializing in nostalgia.
"I didn't know the answer, so I researched it," Doepner said. "Evidently, the only people who can sell Kirby Puckett merchandise is Mitchell and Ness, the people that do authentic, older jerseys." Doepner explained that the official Twins store doesn't sell Kirby Puckett merchandise because of the cost Mitchell and Ness has upfront. "There is some sort of contract, as you inferred, between the people holding the likeness to Kirby and the company that signed the contract."
Twinkie Town contacted Mitchell and Ness and found that it isn't selling a Puckett jersey either. A spokesman said a powdered blue version was offered in a recent catalog, and they didn't sell, so that was it for old Puck.
Puckett owned this town once, but now he's barely even a memory.
He would have turned 57 today.