Thoughts and prayers this afternoon go out to the social media manager of Vice, who bit the bullet and posted this tweet today to promote an article.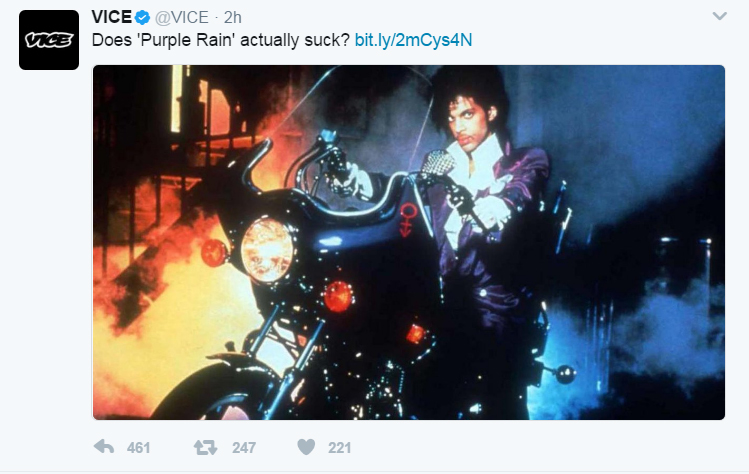 Adam Tod Brown's review, however, isn't about the album. It's about the movie (Rotten Tomatoes rating: 67%).
For starters, the acting is nearly across-the-board terrible. Sure, Prince is as charming as ever, but his performance is goofy and stiff and makes what is supposed to be a film set in the real world seem approximately as believable as most horror flicks. The only real saving graces on the acting front are Morris Day and Jerome Benton from the Time. While we're supposed to be fascinated by the brewing romance between Prince and Apollonia, the already well-established bromance between Morris and Jerome steals the show at every turn. Watching the two of them together is a goddamn delight in almost every way.
"If you're looking for a film that explains the mystique of Prince the personality or Prince the performer, in either case, you can do a lot better," he concluded.
Fightin' words for Prince fans on Twitter, apparently. Few of them appeared to have noticed that the headline didn't refer to the music.
.@VICE @NoiseyMusic pic.twitter.com/wg6ULackbU

— Mari. (@thepaperframes) March 13, 2017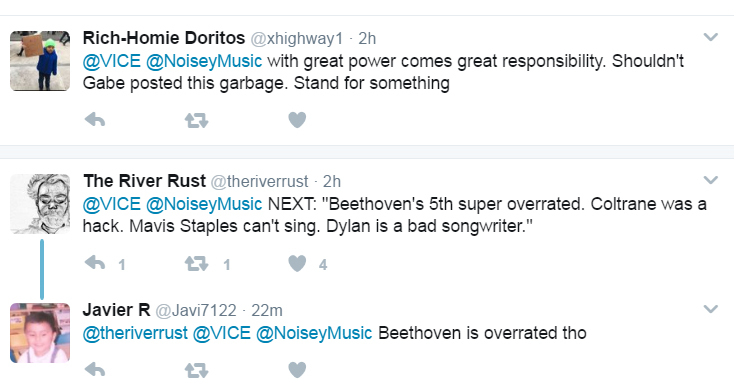 @VICE Prince coming back for y'all rn pic.twitter.com/BkgxrQ2PJu

— Craig Bro Dude (@CraigSJ) March 13, 2017
@VICE they were right about you pic.twitter.com/dsfZ0YMdA8

— Samantha Cole (@samleecole) March 13, 2017
Judging from my mentions right now I'm guessing my Prince article went up on @VICE?

— Adam Tod Brown (@adamtodbrown) March 13, 2017
Brown's review is hardly the first time critics have torched the 1984 movie.
Here's Chicago Reader Dave Kehr's review:
Prince's 1984 movie debut seems more like his deification, with an aggressively stupid plot line (supposedly autobiographical, but if that's true, Prince must have grown up in a retirement community for burned-out screenwriters) that serves only to set him up as a paragon of artistic integrity, sexual prowess, and superhuman sensitivity. The story dynamics dictate that the film should have climaxed with Prince graciously accepting the Nobel Peace Prize, but instead director Albert Magnoli casually tosses the story aside, ending with half an hour of the concert footage that is the film's only reason for being. The project would have been much more palatable as a TV special; as it stands, it's just another symptom of the American cinema's addiction to facile myth-making.
Vicent Canby of the New York Times:
In one of the dizziest of the film's nonmusical interludes, the Kid takes Apollonia for a motorcycle spin in the country, tricks her into skinny dipping while he, fully clothed, looks on and then, when she tries to climb back onto the bike for the return to town, he maliciously teases her by pretending to drive away. Instead of belting him, as might be expected, she comes to understand his desperate longing for love and his inability – because of dad and mom – to give it. Where is Dr. Joyce Brothers when a kid really needs her?

With the exception of one comic bit based on the old Abbott and Costello "Who's on first" routine, "Purple Rain" is completely without humor. The only wit comes in the music and in some of Prince's lyrics, especially those for "When Doves Cry," "Darling Nikki," "Let's Go Crazy" and the title song.

The offstage stuff is utter nonsense. Mr. Magnoli, whose first theatrical film this is, has seen to it that the movie is so efficiently edited that the story ends sometime before the movie does. This is all right because it allows the movie to close with two successive musical numbers, which, in "Purple Rain," are the only things that count.
Fortunately for Canby, he died in 2000, six years before Twitter was created.