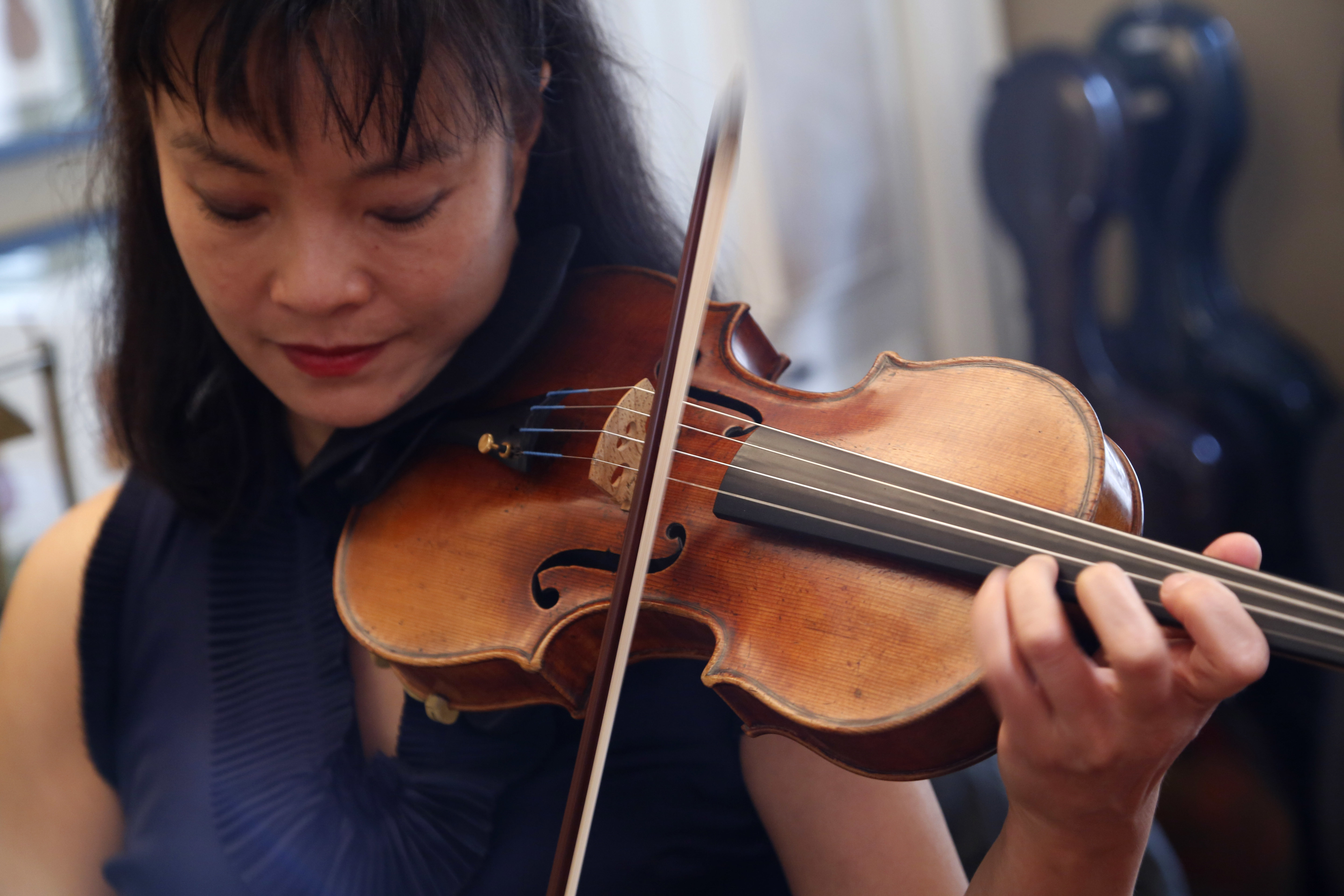 It's unusual to read a story by NPR's Nina Totenberg that doesn't involve the U.S. Supreme Court; this one involves a violin.
But Totenberg has a personal connection to the violin, made by Antonio Stradivari in 1734. It was stolen from her father, virtuoso violinist Roman Totenberg, 38 years ago before it was recovered in 2015.
Mr. Totenberg is dead now; he died in 2012. But there's a lovely circle to this story.
After being restored, it made its debut in a private concert yesterday in New York, played by Mira Wang.
She is a virtuoso too. And she was Mr. Totenberg's student.
Musicians know that every great instrument is like an individual, she observes. "So when I first got it, I truly thought the violin hated me. Great masterpieces like these they have their own character. They don't let you do anything you like. So as a player, being able to control the violin, it's always a tricky business."

"You need time to learn how … to be friends with the instrument, and what it likes and what it doesn't, and to discover the beauty of the true great master, you just need time," she adds.

And so, Wang has been sawing away on the fiddle, every day for hours, becoming its friend — while my father watches.

"I actually have a picture of him right in front of me when I play the violin, and that's where I stand," she says. "I feel he's watching over me saying don't do terrible things to the violin!" And then she laughs.
"May he hear the violin tonight," she told an audience of 200 people at a private club in Manhattan, according to the Washington Post. She then launched into the Ysaÿe Violin Sonata No. 2.
Wang's performance marked perhaps the final chapter in a stunning musical mystery. (As is standard in high-society Manhattan, the private club in which she performed allowed The Washington Post to witness the moment only on the condition that it not be named.) Among the 200 people at the concert were many of the central characters in the happy ending. Christopher McKeough, the FBI agent who helped recover the Strad in 2015, sat on the left side of the room. Bruno Price, the rare-instrument dealer whose shop restored it, took his place across the room. Then there were the three sisters in the second row: Nina, Jill and Amy Totenberg last watched their father perform on the Stradivarius during the waning days of the Carter administration.
The Totenberg sisters plan to sell the violin, but they want it to end up in the hands of a musician, not a rich collector.
As for Wang, her role in the drama is a fine example of the love between student and teacher.
When he was dying of cancer, she sat by his bedside and played Brahms and Bach.