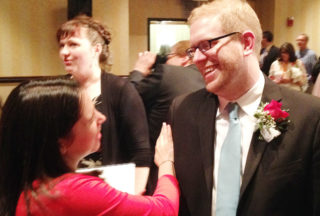 Minnesota's 2014 teacher of the year isn't interested in being the poster boy for people who oppose the last-in-first-out system of teacher layoffs, even though he's gotten his layoff notice.
Tom Rademacher, who wrote an essay last month on what it's like to be a teacher in Minnesota and why teachers persist at it, isn't happy that he's gotten his notice. He thinks the politicians who point to situations as his as a reason to get rid of LIFO should think about funding school systems better.
In his latest post on his blog — Mr. Rad's Neighborhood — Rademacher says he can't point to a teacher that should be let go instead of him.
In other words: The order that we cut teachers is way less of an issue to me than the fact we are cutting so many teachers. There are groups that should be protected. Schools should not be forced for budget reasons to cut teachers of color, or math, or science teachers. It should also be said that we are doing no one, certainly not students and teachers, any favors by making new teachers start over and over and over again in the years that they most need stability and protection to do their jobs.

And man, I get it. It's not the world I live in or the level I work on, but I get that when we look at how much we spend on education, it has to feel like impossibly too much. It has to seem like surely we can cut somewhere. I get that schools and districts don't always spend money wisely. They buy dumb curriculum that fixes nothing. They bring in specialists and consultants and trainers whose primary skill seems to be signing contracts and cashing checks. They hire communications staff that can't communicate. They waste money we dearly need, and so it seems easier to take that money away.

I'm not without bitterness.

I'm sick of teachers and students bearing the brunt, year after year, of bad decisions made by unimaginative and uncourageous leaders. I'm sick of teachers being ignored, then being blamed when things don't work.
He'll be OK. He'll get a teaching job somewhere.
"I will love them after two weeks, and they will start to like me after three months," he says of his future students.
The Robbinsdale Area Schools has a nearly $7 million budget shortfall for next year.
The Minnesota House passed a bill last month that removes seniority as the guide for selecting teachers to remove.
Gov. Mark Dayton has threatened to veto the measure if the language isn't removed.
That earned a rebuke from the Star Tribune editorial board.
Keep in mind that repealing LIFO would not and should not eliminate the consideration of seniority altogether. As in any other profession, experience matters. In education, time in the field is already recognized in step-and-lane salary schedules. If the state repeals the LIFO law, school districts would be free to negotiate alternatives to seniority, which would no longer be the default.

Opponents of repeal say it is unnecessary because about 40 percent of Minnesota districts already have agreed to limited deviations from seniority-only policies. But a Star Tribune analysis of state teacher contracts found that few districts with such agreements ever consider factors other than seniority. That's not the best way to make school staffing decisions that work best for students.
The Minnesota Senate hasn't yet voted on the policy.